In our "Mechanisms" series, we've featured the fascinating bits and pieces that go into making our mechanical world work. From simple machines such as screws and levers, from springs to couplings, and even more complex mechanisms like zippers and solenoids, we've covered the gamut. But we haven't talked about one of the very earliest mechanisms, captured from nature by our clever ancestors to do useful work like grinding grain and shaping materials into tools: grit, sand, abrasives.
Wearing Things Down
When we were kids, summers meant random visits from the ice cream man. We'd run up to the truck, swap sweaty coins for cool treats, and spend a few glorious minutes savoring our purchases. When it was over all too soon, we were left with only a wooden stick to show for it. So naturally, we would spend the next few hours rubbing our sticks on the curbstone, sharpening them as best we could so we could play a rollicking game of "Stab or Be Stabbed." It was intuitive to us that something hard and rough like stone could wear away enough of the soft birch wood to fashion the shivs we needed to disappoint our mothers.
Our "discovery" was nothing new, of course. Archeological records show that humans have been using abrasives for at least 12,000 years, using them to fashion everything from the spears the needed to feed themselves to early sculptures from tusk and bone. That sand could be used to smooth other materials must have been as intuitive to a paleolithic hunter walking barefoot on a beach looking at smooth stones as it was to us juvenile delinquents.
The first manufactured abrasives, as opposed to those simply borrowed from nature, were probably grindstones for processing grains into flour. Simple forms like saddle stones and querns were fashioned from easily worked sandstone, and allowed the relatively soft grains to be pulverized between the stones. Grindstones were also adapted for preparing pigments and crushing ores for smelting. One clever Egyptian craftsman even invented cylindrical grinding by using a grindstone mounted to a shaft to sharpen bronze implements.
These early grindstones are examples of bonded abrasives, one of the main types of abrasives. Bonded abrasives, whether natural or manufactured, are composite materials with abrasive grains cemented together with some kind of binder into a solid shape. In natural stones, the abrasive grains are stuck together through chemical and physical processes when the rock was formed. Manufactured bonded abrasives, like grinding wheels and cutting wheels, use abrasive grit mixed with a resin or sintered together.
Another major type of abrasive, coated abrasives, are exactly what they sound like: abrasive grains stuck to a  backing of some sort. Sandpaper is the most common example, and has been in use since its invention in China in the 13th century in the form of crushed shells and sand held to paper with natural gum. Coated abrasives now run the gamut from modern sandpapers to the diamond-studded cutting wheels found on tile saws and concrete cutting tools.
True Grit
But just what is it about an abrasive material that makes it work? Again, it's pretty intuitive: when one material is harder than another, the harder one can scratch the softer one. But there's complexity behind that simple observation. It's not sufficient to have a difference in hardness; while tool steel is harder than aluminum, rubbing the flat side of fresh tool blank against an aluminum plate won't do much. But press the corner of that blank against the aluminum, or better yet grind it into a proper cutting edge, and the aluminum will easily yield.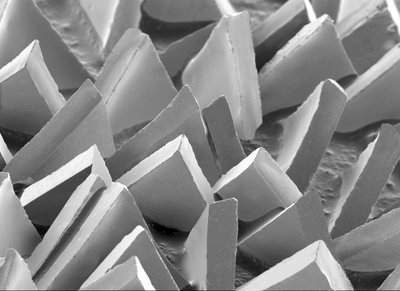 So an abrasive needs to both be harder than the intended substrate and present cutting edges to it. Look at a piece of sandpaper under a microscope and you'll see exactly how that happens: thousands of grains of more or less uniform size stud the surface in an even layer, with jagged edges projecting out of the surface. When rubbed against a piece of wood or other softer material, the projections cut into the surface, plowing tiny tracks and removing material. Larger grains take deeper and wider cuts and remove material faster, at the price of a rougher finish than smaller grains.
While some bonded and coated abrasive still use natural materials like garnet, volcanic pumice, feldspar, or even plain old beach sand, most abrasive manufacturers make their own synthetic abrasives. Aluminum oxide, smelted from bauxite ore by arc furnaces, is a major synthetic abrasive. Giant aluminum oxide ingots are broken down into smaller and smaller particles by crushers and passed through a series of screens to achieve a range of grain sizes.
Scattering Up
When it comes time to create a bonded flexible abrasive like sandpaper, some interesting processes are used. First, many times, the backing for sandpaper isn't even paper. Cloth, fabric, even fiberglass screening are all used, depending on the application. Whatever backing is used, giant rolls of it are loaded into machines that coat it with bonding agents. The sticky backing then goes on to have the abrasive grit applied, but rather than sprinkling the grit down onto the backing, it's scattered upward onto the binder by a strong electrostatic field. This assures even distribution of the grains across the whole surface of the backing, and makes it easier to reuse grit that hasn't adhered.
https://www.youtube.com/watch?v=qVqUy-9RnRU
In addition to bonded and coated abrasives, un-matrixed abrasive grits have a lot of applications too. Abrasive blasting, better known as sandblasting, uses compressed air to propel abrasive grit to remove rust, paint, and contaminants from metals and other material. Water jet cutting is another form of abrasive blasting, where the abrasive is carried by high-pressure water with the intention of cutting through metal completely. And sometimes very finely ground abrasives are mixed into a paste for delicate polishing operations. We recently featured a semiconductor lapping machine that uses diamond paste this way, and similar abrasive pastes are also as close as the nearest tube of toothpaste.
As with any technology that we've been using for 120 millennia, it's hard to even scratch the surface of abrasives. It's also hard to count up how many machining and finishing operations depend on grinding, with each demanding just the right abrasive mechanism for the job at hand.
Featured images: Metabo