What could be better than cruising around town on your fave scooter? Cruising around town on your fave scooter listening to some cool tunes, of course! [sswanton] was enrolled in an Industrial Design course and was tasked with creating a wireless radio project for a specific user (of his choice). He decided to add some wireless speakers to a motorcycle helmet and design a handlebar-mounted radio.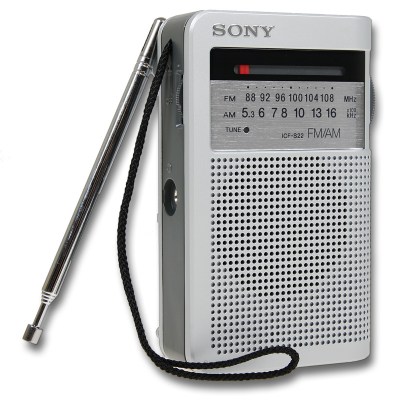 [sswanton] started out by disassembling the ultra-inexpensive, old-school, battery-powered Sony ICF-S22 radio specified by the class. The stock case was discarded as he would have to make a new one that fits onto the bike's handlebars. Plywood makes up majority of the frame while the cover is black acrylic. Getting the acrylic bent required heating to 160 degrees so that it could be bent around a form [sswanton] created specifically for this project. A few cutouts in the case allows the rider to access the volume and tuning knobs.
The speakers added to the helmet were from wireless headphones and came with a matched transmitter. The transmitter was removed from it's unnecessarily large case, installed in the radio's newly created enclosure and connected to the radio's headphone output. Situating the headphone components in the ideal locations of the helmet required that the headphones be disassembled. The speakers were placed in the helmets ear cups. Part of the original headphone case and some control buttons were mounted on the outside of the helmet for easy access. The wires connecting the components had to be extended to reconnect the now spread-out parts.
In order to hear that sweet music all the rider needs to do is turn on the headphones and radio. Check this out to see some more helmet speakers, this time a little more wacky.