You may not remember this, but Nintendo hardware used to be a pretty big deal. The original Game Boy and NES both had remarkable industrial design that, like the Apple II and IBM Thinkpad, weren't quite appreciated until many years after production ended. But, like many of you, [daftmike] had nostalgia-fueled memories of the NES experience still safely locked away.
Memories like lifting the cartridge door, blowing on the cartridge, and the feel of the cartridge clicking into place. So, understandably, reliving those experiences was a key part of [daftmike's] Raspberry Pi-based NES build, though at 40% of the original size. He didn't just want to experience the games of his youth, he wanted to experience the whole NES just as he had as a child.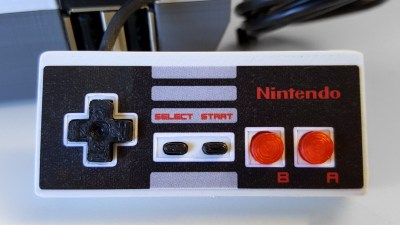 Now, like any respectable hacker, [daftmike] didn't let gaps in his knowledge stop him. This project was a learning experience. He had to teach himself a lot about 3D design and modeling, using Linux, and programming. But, the end result was surely worth the work; the attention to detail shows in features like the USB placement, the power and reset buttons, and of course the game cartridges which work with the magic of NFC and still include the insert and toggle action of the original cartridge carriage.
If you have a 3D printer and Raspberry Pi available, you could build a similar NES emulator yourself. But if you don't have a 3D printer, but do have an original NES lying around, you could pull of the Raspberry Pi in a NES case hack. Whichever you do, the NES's beauty deserves to be displayed in your home.