A few weeks ago I asked the Hackaday community for some help and advice in buying a new budget oscilloscope. Thank you very much to those of you who responded both here online and in person among my friends closer to home. I followed the overwhelming trend in the advice I received, and bought myself a Rigol DS1054z, an instrument with which I am very happy. It's a nominally a 50 MHz scope, but there's a software hack that can bring it up to 100 MHz. How fast can it go?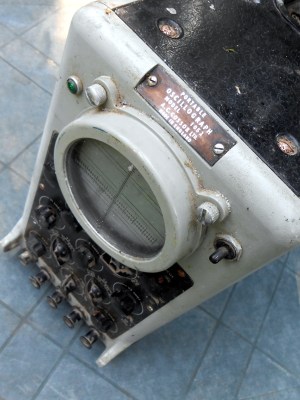 This question became a mini scope-shootout after a conversation with my Hackaday colleague [Elliot] about measuring oscilloscope bandwidth, and then my fellow Oxford Hackspace members producing more than one scope for comparison. You know who you are, thank you. I found myself with ready access to several roughly equivalent models and one very high-end one in specification terms representing different strata of test equipment manufacture, and with the means to examine their performance.
I thus had a chance to look at what the extra money secures in performance terms when you buy an instrument, and gain some idea of whether a more impressive badge is worth the outlay. So what follows is not quite a review of oscilloscopes because I'm not going to dive into feature comparisons, but an evaluation of the bandwidth performance of scopes from several different manufacturers.
Bandwidth vs Everything Else
You might think that what matters in a scope is its timebase; that its quickest setting will tell you how high a frequency it can display. And in a sense you'd be right, but if the scope's internal electronics are only able to resolve a signal at 50 MHz, it doesn't matter that the screen can trace out faster signals than that — it will just smear the same 50 MHz signal across more squares of its graticule. If you're looking for wiggles at a higher frequency than that, they just won't show up. A scope's _bandwidth_, the highest frequency wiggles that it can resolve, is what we care about with respect to "speed".
How does one measure the real bandwidth of an oscilloscope then? The simplest way is to give it a voltage transition so fast as to far exceed its capabilities, and measure the extent to which it has trouble catching up. If you feed it a rise time measured in picoseconds and count the nanoseconds of the rise time that it reports, there is a handy formula to derive the 3 dB bandwidth of its electronics from that figure.
Bandwidth (Hz) = 0.35 / measured rise time (S)
In practice it's convenient to remember that for a rise time in ns the formula returns a bandwidth in GHz.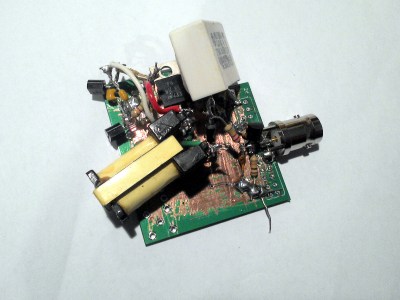 The fast rise times used for the tests in this article come from an avalanche relaxation oscillator following a design from [Kerry Wong], producing roughly 500ps rise time pulses. It uses the ubiquitous 2N3904 general-purpose NPN transistor, and since it requires well over 100V for the transistor to enter avalanche mode it incorporates a small switching inverter using parts scavenged from a scrap ATX power supply. The whole device is built dead-bug-style on the back of a surplus PCB from a prototype run, and connects to the scope with the shortest possible BNC lead. In this realm of measurement the slightest stray capacitance can cause a significant lengthening of the measured rise time.
To the Scopes!
The scopes I had for my tests were two older models, and three current ones. The older scopes were a Tektronix TDS210 80 MHz LCD model and a LeCroy LC584AXL 1GHz CRT model, while the current ones were a Hantek MSO5102D representing the lower end of the budget market, a 50 MHz Rigol DS1054z representing the upper end, and a 100 MHz Rigol MSO2102A from a slightly higher stratum. This DS1054z had not as far as we were aware had the famous software hack so was still a stock 50 MHz model, however no software hack changes the front end hardware.
Looking at each scope in the order listed above, we'll start with the Tektronix. This is very similar in appearance to the three newer scopes, being a lightweight portable LCD model. It's evidently not the latest spec though, with a mono LCD screen, no USB connectivity and a parallel printer port. Thus its screenshot is a photograph.
The Tek's measured rise time of 4.2 ns gives a calculated 3 dB bandwidth of 83.3 MHz, only just above the quoted bandwidth of the instrument. Some of this figure may be due to it having to be measured by manual cursor placement, looking again at the screenshot they could be closer to the 10% and 90% points.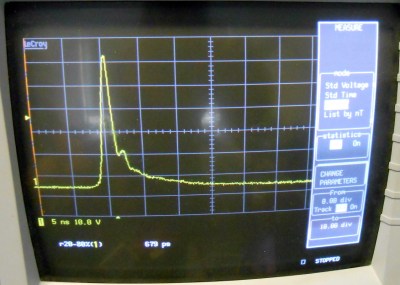 Moving to the LeCroy, yet again we have a photograph rather than a screenshot. This scope was very expensive when it was new in the 1990s, and it has a 1 GHz bandwidth, but it only sports a 1.44 Mb floppy drive and a thermal printer. Unfortunately we didn't have a floppy disk, so out came the camera. With a rise time of 679 ps this instrument gave the fastest reading of all we tested, unsurprising given its quoted performance. If we were to feed this figure into the formula above we'd arrive at a 3 dB bandwidth of 515 MHz, so given that this is a 1 GHz scope we are measuring the rise time of the pulse itself. This was using the instrument's internal 1 Mohm termination because of the voltages involved, its owner suggested that the full bandwidth might require use of its 50 ohm setting and we could thus still be seeing a bit of stretch. At these timings the most unexpected factors can make a significant difference.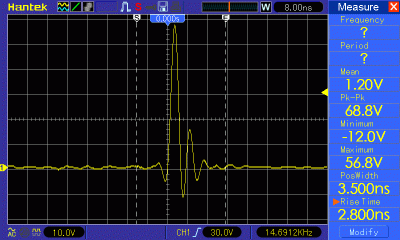 The modern trio of scopes are all much more up-to-date in their interfaces, with USB sockets below their colour LCD screens. The Hantek first, it gave a rise time of 2.8 ns, which corresponds to a 125 MHz bandwidth. This follows the trend set by the older model, a modest margin above its quoted bandwidth. This model is reputed to have a software hack that delivers a 200 MHz bandwidth, it's fairly obvious given this measurement that such a figure would be illusory. In the screenshot you can see a little ringing after the pulse, this is due to the roughly 100 mm BNC lead we were using to couple pulse generator and scope.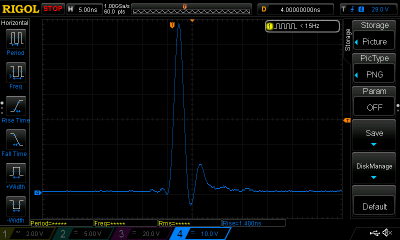 The Rigols completed our tests. The DS1054z first, with a 1.4 ns rise time. This gives the instrument a 3 dB bandwidth of 250 MHz, a significant surprise at five times the quoted bandwidth and over twice the bandwidth with the software hack. This scope also exhibited a bit of ringing, though less than the Hantek.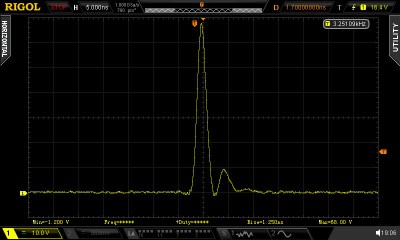 Finally in our selection of instruments came the Rigol MSO2102A. This had a rise time of 1.25 ns, which gave it a calculated 3 dB bandwidth of 280 MHz. Not far short of three times its 100 MHz quoted bandwidth, so yet again it has the same large bandwidth margin as its lower-range sibling.
It may be slightly unfair to compare two slightly long-in-the-tooth digital scopes to three very modern models, but it's a worthwhile comparison when you consider the manufacturers. Brands like LeCroy and Tektronix are supposed to represent the high-quality end of the market, so we should expect their products to foreshadow the performance of their budget competitors by a decade or so. In particular the Tektronix is a directly equivalent model to the more recent trio in terms of form factor and quoted bandwidth. So in looking at these older models we are not so much looking at their performance compared to the newer ones in a negative sense, more looking to see how far the technology has evolved since their manufacture.
Putting all four models within the range of our pulse generator in a table to compare their figures, we see the following:
Model
Quoted bandwidth
Measured rise time
Calculated 3 dB bandwidth
Percentage bandwidth overspecification
Tektronix
TDS210
80 MHz
4.2 ns
83.3 MHz
4.125%
Hantek
MSO5102D
100 MHz
2.8 ns
125 MHz
25%
Rigol
DS1054z
50 MHz
1.4 ns
250 MHz
400%
Rigol
MSO2102A
100 MHz
1.25 ns
280 MHz
180%
At this point it's fairly obvious that the two Rigols give the most Bandwith Bang For Your Buck among the models tested, extending far beyond their quoted or even hackable bandwidth. Without opening up both instruments it's impossible to tell, but would we find substantially the same front end chipset in all 200 MHz and below Rigol scopes? Meanwhile when you buy the Hantek you pay a very reasonable price depending where you look, and get exactly what you pay for.
The interesting story comes from the older model. The Tektronix has quite a narrow margin of bandwidth overspecification. This might seem odd for what would have been quite an expensive instrument in its day, but it's worth considering that digital oscilloscopes were significantly more cutting-edge technology in those days than they are now. When you pay for a digital scope you are in a significant sense buying the quality of its analogue-to-digital converter, and given that ADCs of this speed were quite exotic pieces of silicon in the 1990s it's hardly surprising that the designers at Tektronix had less margin available to them within the target budget for their product.
The process of choosing a scope and then investigating the performance of digital scopes over the past few weeks has been an extremely interesting one. When you have used these instruments for over 30 years you believe you know everything there is to know about them, but the work documented here has proved there is always something new to learn, and measure.