Air-to-air combat or "dogfighting" was once a very personal affair. Pilots of the First and Second World War had to get so close to land a hit with their guns that it wasn't uncommon for altercations to end in a mid-air collision. But by the 1960s, guided missile technology had advanced to the point that a fighter could lock onto an enemy aircraft and fire before the target even came into visual range. The skill and experience of a pilot was no longer enough to guarantee the outcome of an engagement, and a new arms race was born.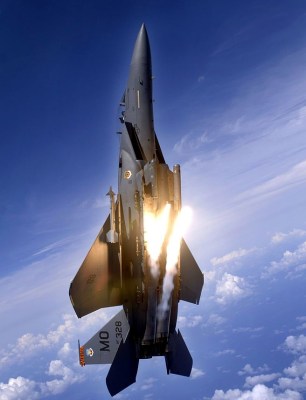 Naturally, the move to guided weapons triggered the development of defensive countermeasures that could confuse them. If the missile is guided by radar, the target aircraft can eject a cloud of metallic strips known as chaff to overwhelm its targeting system. Heat-seeking missiles can be thrown off with a flare that burns hotter than the aircraft's engine exhaust. Both techniques are simple, reliable, and have remained effective after more than a half-century of guided missile development.
But they aren't perfect. The biggest problem is that both chaff and flares are a finite resource: once the aircraft has expended its stock, it's left defenseless. They also only work for a limited amount of time, which makes timing their deployment absolutely critical. Automated dispensers can help ensure that the countermeasures are used as efficiently as possible, but sustained enemy fire could still deplete the aircraft's defensive systems if given enough time.
In an effort to develop the ultimate in defensive countermeasures, the United States Navy has been working on a system that can project decoy aircraft in mid-air. Referred to as "Ghosts" in the recently published patent, several of these phantom aircraft could be generated for as long as the system has electrical power. History tells us that the proliferation of this technology will inevitably lead to the development of an even more sensitive guided missile, but in the meantime, it could give American aircraft a considerable advantage in any potential air-to-air engagements.
Continue reading "Plasma "Ghosts" May Help Keep Future Aircraft Safe" →