It probably won't surprise you to know that the US military is very interested in using lasers as weapons. Directed energy weapons such as lasers have many advantages over more traditional kinetic weaponry, not least of which the fact that you don't need to cart around ammunition for them. But somewhat surprisingly, some of the most promising laser developments have been in the field of non-lethal weaponry. While the mental image of a laser is usually a destructive one, recent demonstrations by the Joint Non-Lethal Weapons Program show lasers can do more than blow holes your target.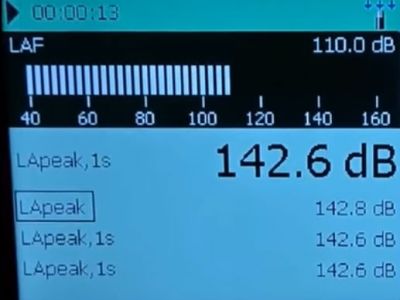 As reported by [Patrick Tucker] of Defense One, a radical new laser-powered sonic weapon was shown off at the "Directed Energy to DC Exhibition". The system uses two lasers: one to generate a ball of plasma when it hits the target, and another to modulate the plasma ball in open air. The result is a variation of the classic plasma speaker demonstration, where plasma is used as a a driver for a massless speaker.
Currently the system is capable of generating a deafening crack at the target area, with a measured intensity as high as 140 dB. That's about as loud as fireworks or a shotgun going off at close distance, and in theory is enough to drive off whoever is unlucky enough to be targeted with the beam.
In time, the researchers hope to refine their secondary modulation laser to the point that they can play audio over the plasma. This would allow the beam to be used as a directed loud speaker of sorts, which could prove useful for defensive applications. Only the target would be able to hear the audio, which could be a recording telling them they were entering a secured area. A disembodied voice telling you to turn around sounds like a extremely effective non-violent deterrent to us. The voices in our head don't have to tell us twice.
We recently looked at the possibility of targeted sonic weapons being used in Cuba, and of course, we've covered many plasma speakers on Hackaday over the years. Plasma speakers have always been more or less nothing more than a fun high voltage demonstration, so to see them potentially weaponized is a crossover episode we weren't expecting.
Continue reading "US Military Developing Laser Plasma Speakers" →