If you've been hanging around Hackaday for any length of time, you've undoubtedly seen the work of [Niklas Roy]. A prolific maker of…everything, we've covered his projects for over a decade now. He's one of an elite group of hackers who can say they've been around since Hackaday was still using black & white pictures. Yet sometimes projects fall through the cracks.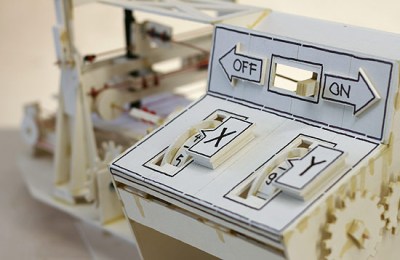 Thanks to a tip sent in from one of our beloved readers, we're just now seeing this incredible cardboard plotter [Niklas] made for a workshop he ran at the University of Art and Design Offenbach several years ago. The fully manual machine is controlled with two rotary dials and a switch, and it even comes with a book that allows you to "program" it by dialing in specific sequences of numbers.
Not that it detracts from the project, but its worth mentioning that the "cardboard" [Niklas] used is what is known as Finnboard, a thin construction material made of wood pulp that looks similar to balsa sheets. The material is easy to work with and much stronger than what we'd traditionally think of as cardboard. Beyond the Finnboard, the plotter uses welding rods as axles and slide rails, with glue, tape, and string holding it all together.
The dials on the control panel correspond to the X and Y axes: turning the X axis dial moves the bed forward and backward, and the Y dial moves the pen left and right. The switch above the dial lowers and raises the pen so it comes into contact with the paper below. With coordination between these three inputs, the operator can either draw "freehand" or follow the sequences listed in the "Code Book" to recreate stored drawings and messages.
Believe it or not, this isn't the first time we've seen somebody made a plotter out of cardboard. Though previous entries into this specific niche did use servos to move around.
Continue reading "Tiny Plotter Is Made Of Strings And Cardboard" →