Recently I've been learning more about classic analog music synthesizers and sequencers. This has led me to the Baby10, a classic and simple analog sequencer design. In this article I'll introduce its basic operation, and the builds of some awesome hackers based on this design.
Sequencers produce, a sequence of varying voltages. These control voltages (CV) can then be use to control other components. Often this is a simple tone generator. While the concept is simple, it can produce awesome results:
A basic sequencer is a great beginners project. It's easy to understand the basic operation of the circuit and produces a satisfyingly entertaining result. The Baby 10 was originally published in a column called "Captain's Analog", but has now been widely shared online.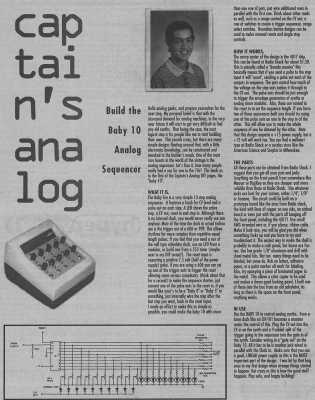 The circuit uses the 4017, a simple CMOS decade counter. The 4017 takes an input clock signal then sequentially outputs a high pulse on each of 10 output pins. As such, the 4017 does almost everything we need from a sequencer in a single IC! However, we want our sequencer to output a varying voltage which we can then use to generate differing tones.
To accomplish this variable resistors are connected to each of the output pins. A diode in series with the variable resistor stops the outputs fighting against each other (in layman's terms).
To make the sequencer more visually attractive (and give some feedback) LEDs are often also added to the output of the 4017. A complete Baby 10 sequencer is shown in the schematic below. The original circuit used 1N917s, these are no longer available but the part has been replaced by the 1N4148.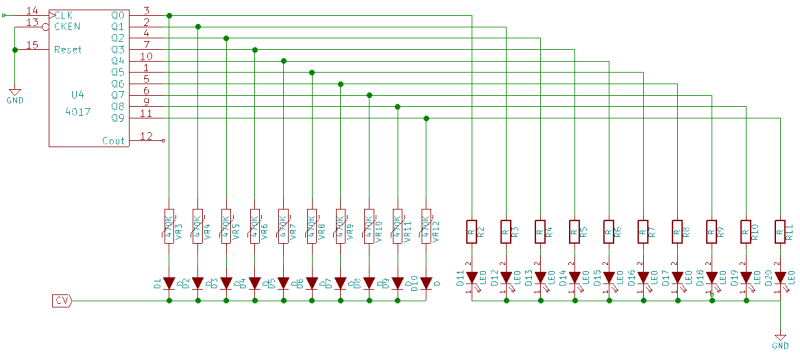 While this completes the basic sequencer a couple of other components are required to produce a system that actually does something useful. We'll need a clock input to drive the sequencer, and something to generate tones on the output. For both of these purposes we can use the ubiquitous 555!
For the clock we can use a simple 555 astable oscillator. The schematic below should produce a clock with a suitably variable range (from about 70Hz to 0.3Hz). This is about right for an audible range, but if you're interested in changing this there are some great 555 value calculators which make the process easy.
Now the sequencer is sending out clocked, varying control voltages they need to be turned into a tone to produce a sound. Many commercial synths provide a CV input. The basic sequencer is therefore already useful:
But if you're building your system from scratch you'll need to add a tone generator yourself. You could use another 555 astable oscillator (using the same circuit as the clock but changing the values). But a common choice is to use an astable and monostable 555 as an Atari punk console (we have a detailed article on the punk console which describes how it works).
The complete Baby10/Atarti punk console circuit, then looks something like this: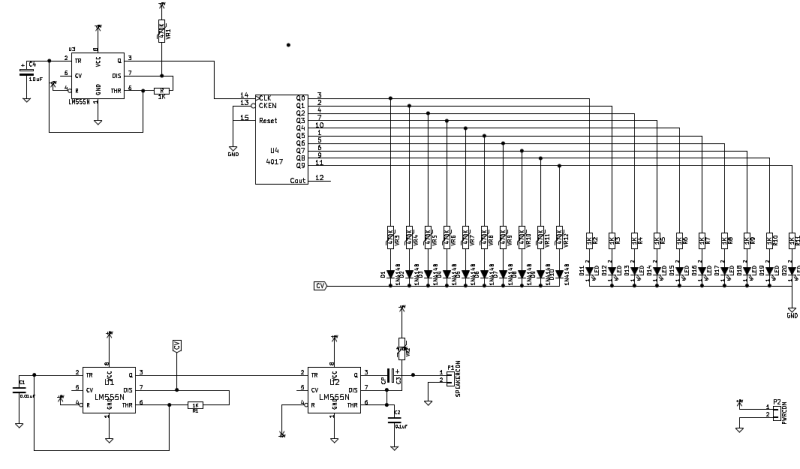 It's pretty easy to put this project together on a breadboard, and the components only cost a few dollars. But I'm also hoping to put a PCB together so we can run workshops at our local hacker space (if you'd like the gerbers, comment below!).
The 4017 driving the Baby10 step limits the sequencer to 10 steps. For most musical applications however 10 steps sounds distinctly odd, By looping one of the outputs to the reset pin you can limit the number of steps. Most hackers choose to use the Baby10 as an 8 step sequencer (Baby8), but there's lots of scope in varying the number of steps.
Using the Baby10 as a basis you can hack around with the design in various ways to produce more interesting sounds, and many hackers have produced unique sequencers based on this design. By combining 2 4017s  for example you can build a 16 step sequencer:
If you want to get more ambitious, you can combine multiple Baby8s (or multiple Baby16s if you feel like it!) to produce interesting effects:
There are many other possibilities too, such as using an irregular clock input, chaining multiple sequencers together, and experimenting with different synths. All this experimentation makes the Baby10 a fun project which can start of simple and get progressively more complicated — it has inspired me to build my own kit version of the design. Hopefully it's also simple enough that beginners can grasp basic concepts and learn something from the project too. If you want to dig into more of the core concepts of the synth, check out [Elliot Williams'] Logic Noise series. In particular, he covers the 4017, and it was the Baby10 that inspired that post. In any case, working with these designs you should end up with something that produces entertaining and unique music.