If you somehow haven't read or watched War of the Worlds, here's a spoiler alert. The Martians are brought down by the common cold. You can argue if alien biology would be susceptible to human pathogens, but if they were, it wouldn't be surprising if aliens had little defense against our bugs. The worrisome part of that is the reverse. Could an astronaut or a space probe bring back something that would ravage the Earth with some disease? This is not science fiction, it is both a historically serious question and one we'll face in the near future. If we send people to Mars are they going to come back with something harmful?
A Bit of News: Methane Gas Fluctuations on Mars
What got me thinking about this was the mounting evidence that there could be life on Mars. Not a little green man with a death ray, but perhaps microbe-like life forms. In a recent press release, NASA revealed that they not only found old organic material in rocks, but they also found that methane gas is present on Mars and the amount varies based on the season with more methane occurring in the summer months. There's some dispute about possible inorganic reasons for this, but it is at least possible that the variation is due to increased biological activity during the summer.
These aren't the first potential signs of life on Mars, either. In 1996, David McKay, Everett Gibson, and Kathie Thomas-Keprta from the Johnson Space Center announced they had found microbial fossils in a piece of meteorite that originated on Mars (see picture, below). The scientific community came up with a lot of alternative explanations, but to this day we don't know conclusively if it is evidence of Martian life or just an inorganic process.
History Repeats
So far, there's nothing really worrisome about Martian microbes because they are far away. But we have had contact with one other extraterrestrial body already: the moon. If you think the moon landing was fake, you've clearly overestimated the ability of the government to keep a secret. In 1969, two astronauts who had walked on the moon returned to Earth. Would they go down in history as modern-day typhoid Mary's?
There was a very low chance that the moon harbored any sort of dangerous microbes, but there was a chance. And the price to pay for being wrong could have been very high, so NASA erred on the side of caution. That's how the Mobile Quarantine Facility (MQF) came into being.
Chillin' in an RV
If you have ever seen an Airstream trailer, you'd recognize the MQF. It was a 35-foot trailer that had no wheels but did have an elaborate air filtering system. Once the Apollo capsule landed in the ocean, the recovery crew threw down isolation suits the crew put on until they were brought to USS Hornet where they were installed in the MQF.
Although 35 feet doesn't sound very big for three men, it was spacious compared to the lunar capsule they'd been in. Actually, there were five men inside — an engineer and a doctor were sealed in with the crew for the 65-hour observation period. Carried by airplane and truck, the MQF made its way to Pearl Harbor and then Houston. Once in Houston, the space travelers were released for two more weeks of isolation in the Lunar Receiving Lab.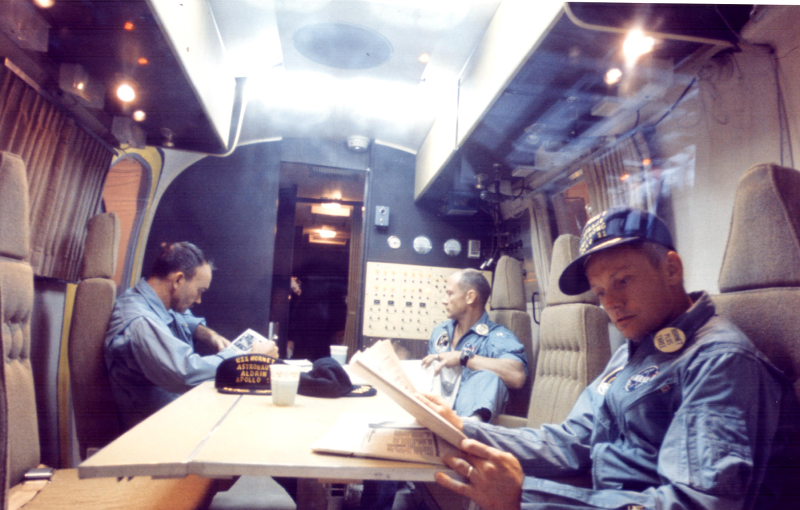 The same procedure was in place until Apollo 15. Of course, Apollo 13 didn't reach the moon, so it didn't use the MQF either. Looking back on it, it seems almost silly that there was so much concern.
Now There's Mars
It might seem silly now, but back then the logic was sound. First and foremost, if there was any chance at all, you had to be sure. Being wrong would have been devastating — possibly even killing everyone on Earth. Second, this was a well-funded and highly-visible government project so there was some political need to look cautious and a lot of money available to do so.
Mars may be a different story. NASA isn't funded like it used to be. Elon Musk's company may get there first, or maybe another country will go. We are at a time when people aren't as careful as they used to be, in a lot of areas. Will we take precautions against a Martian plague?
Even if you think native Martian life is not likely (or not likely to want to feast on humans and other Earth creatures), there's another concern. In fact, it may be more likely and more likely to be deadly. It turns out that despite NASA's unwillingness to go out on a limb and say there is life on Mars, we know that there is almost certainly some life on Mars. We know that because we brought it there ourselves.
Every spacecraft we send to the red planet — or anywhere — will have some amount of Earth life within it. The process even has a name: forward contamination. NASA has a planetary protection officer that ensures the Committee on Space Research (COSPAR) standards are met. This international standard requires that all space exploring nations limit the chance of contamination to 1 in 1,000 total. It even goes as far as to allocate that total to different nations. The US is allowed a 1 in 40,000 chance.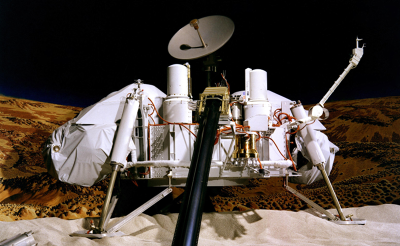 The initial Viking probes were baked almost sterile, but after discovering the harsh environment on the Martian surface, future probes were given more latitude. However, more recent research has shown that on Earth, microbes can live under some hellish conditions, so there is some likelihood we've already contaminated Mars.
Don't think the microbes would survive the ride to Mars? Think again. Experiments on the International Space Station confirm that the cleaning done by NASA leaves only the hardiest strains of bacteria and it appears that at least some could hibernate until they found the right conditions for life. In fact, under current COSPAR rules, if NASA's Curiosity probe finds water, it can't get near it because it is not clean enough.
Double Threat
So there are really two threats. Native Martian microbes hitching a ride to Earth, or mutated Earth organisms catching a lift back to their home planet. Either way could have serious consequences. The same COSPAR group that dictates how many microbes you can take to Mars and other planets also specifies how to quarantine things coming back. The United States actually had the "Extra-Terrestrial Exposure Law" at the time of the moon landings, but that was removed in 1991. So it isn't clear if a private entity like Musk would be required to follow any such procedure.
Of course, this is Hackaday, so what's the hacker angle to all this? In my opinion, part of the problem here is defining life. What's alive and what's not? Like Justice Potter Stewart said about pornography, "I know it when I see it." On Star Trek it was easy to "scan" a planet and announce you'd found life forms. But what does that mean exactly? There have been cases found of inorganic matter self-organizing. There are macromolecular systems that self-replicate. There is no assurance that alien life would be based on the carbon chemistry we associate with life.
A few decades of scientists haven't figured that out yet. Maybe its time we took a crack at it. How can you detect life? For safety, how much life do you need to detect? Microbial life? Is it possible that inorganic life (e.g., silicon-based life) would not be harmful to people? Are we sure? Even just determining Earth-like life — preferably over at least a short distance — would be a great benefit to science.  If you want some reading on that topic, stop off at NASA's astrobiology web site.
All the images in this post are from NASA, as you might expect. If you want to see more about the MQF, Airstream has an interesting video with a few internal details of the facility's construction. You can see that video, below.