There once was a time when to make a PCB in our community was to use CadSoft EAGLE, a PCB design package which neatly filled the entry level of that category with a free version for non-commercial designs. Upgrading it to the commercial version was fairly inexpensive, and indeed that was a path which quite a few designers making the step from hobby project to small production would take.
Then back in 2017, CadSoft were bought by Autodesk, and their new version 8 of the software changed its licensing model from purchase to rental. It became a product with a monthly subscription and an online side, and there began an exodus of users for whom pay-to-play meant too much risk of losing access to their designs. Now six years later the end has come, as the software behemoth has announced EAGLE's final demise after a long and slow decline.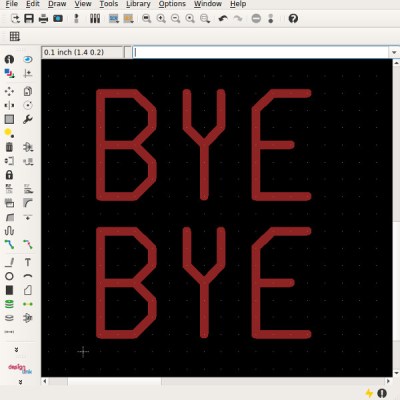 To anyone who has kept up with the development of PCB software over the years, this has probably come as no surprise. Open-source software such as KiCAD has gone from as annoying as fingernails on a chalk board to being surprisingly useful and accessible, so perhaps the time has passed for a commercial package in Eagle's niche.
But even that analysis misses the point of how Autodesk got it wrong with Eagle, they failed to understand that their paying customer base was made of people for whom even a cheap software licence represented a considerable investment. Owners of self-funded tiny businesses have to make everything they buy work for them, they need to stay in control of their outgoings, and pay for upgrades to their equipment when they can both afford and justify the purchase rather than on a whim. They don't hang on to old equipment or software purely for sentiment, they simply can't justify the cost of an upgrade for that particular tool.
What the Autodesk purchase of EAGLE took away is crucial for a tiny business, it removed the semblance of certainty around software licence ownership. Previously they knew they could soldier on for a while with an old version of EAGLE, and upgrade later if sales weren't going very well. But if they took up the subscription, they now had to keep paying whether they could afford it or not, or risk losing access to an essential tool. It doesn't matter to a small business owner whether or not they have the latest version — what they need is the certainty that they will have a CAD package, and by moving to a subscription model that certainty gained an air of being held to ransom.
At the time, Autodesk's response to criticism was that EAGLE had failed to develop its full revenue potential under its previous owners. It likely had some truth to it, but for us it's still a fundamental lack of understanding of Eagle's customer base. They were not the type of people or companies who buy OrCAD or Altium, and for whom expenditure on a licence subscription comes from pocket change. Instead they bought a simple and slightly feature-limited package for which to them the licence fee was a noticeable, but not unreasonable, business expense. Take away the certainty of ownership from their software licences, and the risk involved in taking up the deal increases. Small business owners don't like that kind of risk to come from their capital investments, and left EAGLE for KiCAD in droves.
We remember Autodesk's EAGLE marketing manager desperately trying to give us a free subscription to the then-new EAGLE service back at its launch, and we politely made the points in the previous paragraph. It seems that they've needed six years to take them in.