[Mathieu Stephan] has something new in the works, and while he isn't ready to take the wraps off of it yet, he was kind enough to document his experience putting the mysterious new gadget through its paces inside an anechoic chamber. Considering the majority of us will never get inside of one of these rooms, much less have the opportunity to test our own hardware in one, he figured it was the least he could do.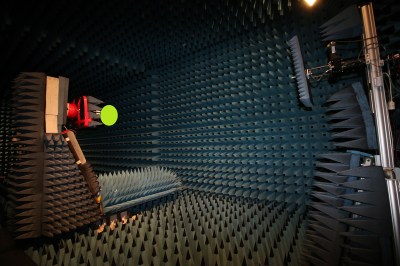 If you're not familiar with an anechoic chamber, don't feel bad. It's not exactly the sort of thing you'll have at the local makerspace. Put simply it's a room designed to not only to remove echos on the inside, but also be completely isolated from the outside. But we aren't just talking about sound deadening, the principle can also be adapted to work for electromagnetic waves. So not only is in the inside of the anechoic chamber audibly silent, it can also be radio silent.
This is important if you want to test the performance of things like antennas, as it allows you to remove outside interference. As [Mathieu] explains, both the receiver and transmitter can be placed in the chamber and connected to a vector network analyzer (VNA). The device is able to quantify how much energy is being transferred between the two devices, but the results will only be accurate if that's the only thing the VNA sees on its input port.
[Mathieu] can't reveal images of the hardware or the results of the analysis because that would give too much away at this point, but he does provide the cleverly edited video after the break as well as some generic information on antenna analysis and the type of results one receives from this sort of testing. Our very own [Jenny List] has a bit more information on the subject if you'd like to continue to live vicariously through the accounts of others. For the rest of us, we'll just have to settle for some chicken wire and a wooden crate.
Continue reading "A Sneak Peek At Anechoic Chamber Testing" →