Week 17 of the Caption Cern Contest on Hackaday.io is now a polished sheet metal memory, but the captions live on! Thanks to everyone who entered. We may never know exactly what these scientists and their ladder holding friend were up to. We do know a bit more about some of the equipment in that photo though! Astute reader [Pierlu] dropped a photo comment here on the Blog showing some interesting lawn ornaments over at CERN. The device to the right looks quite a bit like the device on the right side of our original image. We don't have a close-up to be sure, but chances are this is part of a Cockcroft–Walton generator.
The Funnies:
"…and six cute little kittens, too. I wonder how she got in here? Hey, hold that ladder steady, Schrödinger!" – [sbi.gaijin]
"Good news: the shrink ray worked. Bad news: we have to escape the janitor's vacuum cleaner" – [Cody]
"Archeology Professor Ammit Duat from the University of Cairo, assisting CERN engineer Jack Orsiris in changing the locks on the door to the Egyptian underworld" – [carbonfiber]
This week's winner is [alj5432] with "Sticking with CERN's usual "Go Big or Go Home" theme,
scientists make adjustments to LHC's massive "Press To Start" Button." We're sure [alj5432] will enjoy probing digital circuits with his new Logic Pirate From The Hackaday Store! Congratulations [alj5432]!
Week 18
CE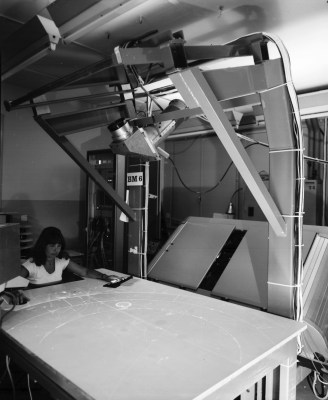 RN is no stranger to innovative display systems. That should be no surprise, considering CERN staff are trying to work with massive amounts of data collected by thousands of scientists. Here we see one of those systems, a projection table of some sort.
Today video projectors are relatively cheap and easy to make, thanks to advances in LCD and MEMS technology. Back when this image was shot in 1979 though, video projectors were expensive and rare commodities. What was this scientist doing?
You tell us!
Once again, we're giving away a Logic Pirate from The Hackaday Store.
Add your humorous caption as a comment to this project log. Make sure you're commenting on the contest log, not on the contest itself.
As always, if you actually have information about the image or the people in it, let CERN know on the original image discussion page.
Good Luck!