Weather can have a significant impact on transport and operations of all kinds, especially those at sea or in the air. This makes it a deeply important field of study, particularly in wartime. If you're at all curious about how this kind of information was gathered and handled in the days before satellites and computer models, this write-up on WWII meteorology is sure to pique your interest.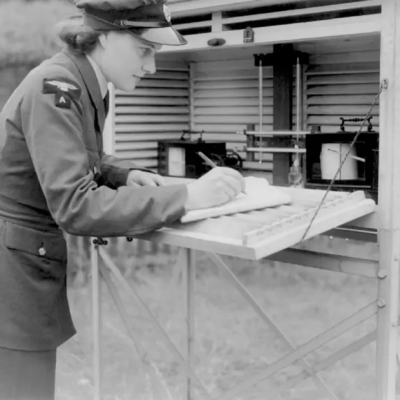 The main method of learning weather conditions over the oceans is to persuade merchant ships to report their observations regularly. This is true even today, but these days we also have the benefit of things like satellite technology. Back in the mid-1900s there was no such thing, and the outbreak of WWII (including the classification of weather data as secret information due to its value) meant that new solutions were needed.
The aircraft of the Royal Air Force (RAF) were particularly in need of accurate data, and there was little to no understanding of the upper atmosphere at the time. Eventually, aircraft flew regular 10-hour sorties, logging detailed readings that served to provide data about weather conditions across the Atlantic. Readings were logged, encoded with one-time pad (OTP) encryption, then radioed back to base where charts would be created and updated every few hours.
The value of accurate data and precise understanding of conditions and how they could change was grimly illustrated in a disaster called the Night of the Big Wind (March 24-25, 1944). Forecasts predicted winds no stronger than 45 mph, but Allied bombers sent to Berlin were torn apart when they encountered winds in excess of 120 mph, leading to the loss of 72 aircraft.
The types of data recorded to monitor and model weather are nearly identical to those in modern weather stations. The main difference is that instruments used to be read and monitored by human beings, whereas today we can rely more on electronic readings and transmission that need no human intervention.