Next time you're renovating and need to run some cables around corners in you walls, save yourself some frustration by building [izzy swan]'s corner drilling rig. It's something akin to a custom tunnel boring machine but on a small scale.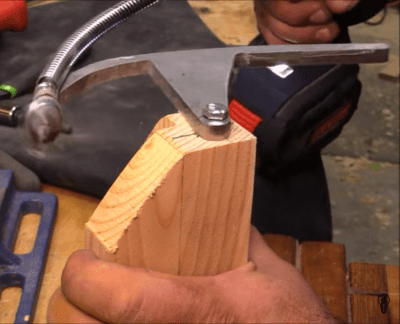 Starting with a piece of steel, [izzy] traced and cut out a 90 degree curve with an attached arm that will allow it to rotate from a central block. He then grabs a random drill bit and attaches it to a flex shaft which is secured to the leading point of the steel curve. To complete the handy setup the entire rig is bolted to a block that will clamp over the corner stock.
As it stands, it takes some elbow grease to get the drill through, but it's not a purpose built setup. On a second demonstration, the flex shaft breaks, but the idea is there. Now, [izzy] advises that this is most easily accomplished when re-framing walls with no drywall obstructing your drill, but the concept for this rig could nonetheless prove handy for welding, grinding, and so forth along any angled curve.
If instead you want to push your carpentry skills to their limits, build a wooden Vespa.