To hear founder Richard Branson tell it, the first operational flight of Virgin Galactic's SpaceShipTwo has been 18 months out since at least 2008. But a series of delays, technical glitches, and several tragic accidents have continually pushed the date back to the point that many have wondered if it will ever happen at all. The company's glacial pace has only been made more obvious when compared with their rivals in the commercial spaceflight field such as SpaceX and Blue Origin, which have made incredible leaps in bounds in the last decade.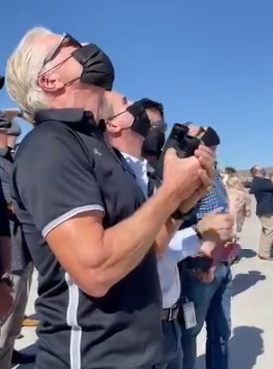 But now, at long last, it seems like Branson's suborbital spaceplane might finally start generating some income for the fledgling company. Their recent successful test flight, while technically the company's third to reach space, represents an important milestone on the road to commercial service. Not only did it prove that changes made to Virgin Space Ship (VSS) Unity in response to issues identified during last year's aborted flight were successful, but it was the first full duration mission to fly from Spaceport America, the company's new operational base in New Mexico.
The data collected from this flight, which took pilots Frederick "CJ" Sturckow and Dave Mackay to an altitude of 89.23 kilometers (55.45 miles), will be thoroughly reviewed by the Federal Aviation Administration as part of the process to get the vehicle licensed for commercial service. The next flight will have four Virgin Galactic employees join the pilots, to test the craft's performance when loaded with passengers. Finally, Branson himself will ride to the edge of space on Unity's final test flight as a public demonstration of his faith in the vehicle.
If all goes according to plan, the whole process should be wrapped up before the end of the year. At that point, between the government contracts Virgin Galactic has secured for testing equipment and training astronauts in a weightless environment, and the backlog of more than 600 paying passengers, the company should be bringing in millions of dollars in revenue with each flight.
Continue reading "Virgin Galactic's Long Road To Commercial Spaceflight" →