There is a lot to be learned from the experience of building something functional, and even better if doing so doesn't break the bank. [Sergej Stoetzer]'s 20€ DIY-Eyetracker aims to be an educational process that covers everything from hardware to functional software in an accessible way.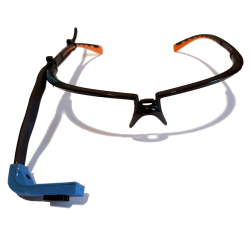 The eye tracker is based on an economical USB endoscope, which is a small camera optimized for up-close applications. By attaching the camera to a pair of common safety glasses so that it looks at one's eye, some OpenCV and Python code can do simple tracking and interfacing with other projects.
Basic eye tracking — like determining whether a user is looking up, down, left, or right — can be all that's needed depending on one's application. That means that it's possible to get something working with very little hardware and some easy-to-use OpenCV functions.
Even better performance can be had by adding IR illumination and repackaging the camera into a 3D printed enclosure. The pupil of the eye is an aperture in the iris that appears as a black circle, and that's even more true under IR illumination which is invisible to the naked eye. If you're curious about what's inside those USB endoscope cameras and how to remove their IR filter, there are some good pictures of that process in this project.
The ability to get something prototyped quickly and working well enough to learn new things is a valuable skill, and that's why re-engineering Education is one of the challenges in the 2023 Hackaday Prize.