Those of us who trawl the world of cheap imported goods will most often stay in our own comfortable zones as we search for new items to amaze and entertain us. We'll have listings of electronic goods or tools, and so perhaps miss out on the scores of other wonders that can be ours for only a few dollars and a week or two's wait for postage.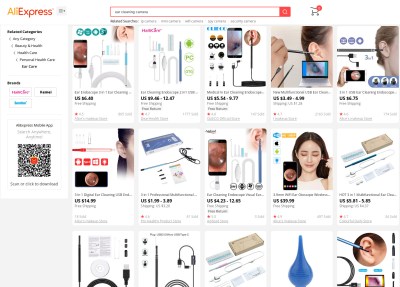 Just occasionally though something will burst out of another of those zones and unexpectedly catch our eye, and we are sent down an entirely new avenue in the global online supermarket.
Thus it was that when a few weeks ago I was looking for an inspection camera I had a listing appear from the world of personal grooming products. It seems that aural hygiene is a big market, and among the many other products devoted to it is an entire category of ear wax removal tools equipped with cameras. These can get you up close and personal with your ear canal, presumably so you can have a satisfying scoop at any accumulated bodily goop. I have a ton of electronics-related uses for a cheap USB close-up camera so I bought one of these so I could — if you'll excuse the expression — get a closer look.
Continue reading "Review: Ear Wax Cleaning Cameras As Cheap Microscopes, We Take A Closer Look" →