Although detecting pollution in surface waters has become significantly easier over the years, testing for specific pollutants still requires the taking of samples that are then sent to a laboratory for analysis. For something like detecting pesticide run-off, this can be a cumbersome and expensive procedure. But a 3D printed sensor demonstrated by [Sara Fateixa] and international colleagues offers hope that such tests can soon be performed in the field. The most expensive part of this setup is the portable Raman spectrometer that is used to detect the adsorbed molecules on the printed test strips.
The printed structure itself forms a plasmonic structure with gold or silver as the plasmonic metals deposited on the polypropylene (PP) and multi-walled carbon nanotube (MWCNT, 4% by weight) material. The mixture of PP and MWCNTs is to use both the bio-compatible properties of the former, while using the latter to make the PP significantly easier to print with and enhancing its mechanical properties.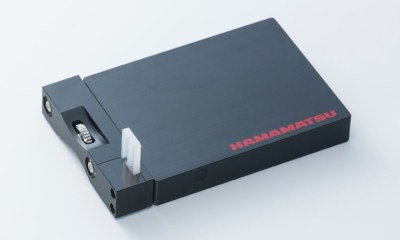 For the experiment, researchers used a few prepared sensors to detect herbicides, including paraquat. This herbicide is cheap, widely used, and banned in various countries. After dissolving it in low concentrations in both tap water and sea water, a 3D printed sensor with Ag coating was was exposed to each sample before being left to dry at room temperature. Afterwards a Hamamatsu C13560 portable Raman spectrometer was used to analyze the sensors using surface-enhanced Raman scattering (SERS). The combination of plasmonic structures and Raman scattering means a significantly enhanced sensitivity, on the order of singular molecules, and is what makes SERS such a useful analytical technique.
In the resulting scan results, the herbicides showed up clearly, and further long-duration testing of newly printed sensors showed them to be very stable, even after 150 days of being stored. This makes it a promising new way to affordably and quickly perform tests for pollution, requiring only minimal local infrastructure to produce and analyze the sensors.
Heading: Processing of PP/MWCNT nanocomposites and coating them with plasmonic NPs. (Credit: Sara Fateixa et al., 2023)