Supercon badge hackers had to be ready to present their show-and-tell by 6 pm Sunday evening. This ruthless unmoving deadline meant every badge hack on stage represents an accomplishment in time management, and some luck, in addition to their own technical merits. But that deadline also meant a few fantastic projects lost their race against the clock. We were rooting for [Jac Goudsmit] to build an Apple I emulator as his badge expansion, but he wasn't quite done when our badge hack ceremony began. After Supercon he went home, finished the project, and documented everything in a detailed writeup.
Our 2018 Supercon badge is built on a retro-computing theme, and the default firmware came with a BASIC interpreter as well as a Z80 emulator running CP/M. So an Apple 1 emulator should feel right home with its contemporaries. Mechanically speaking, all the parts were a tight fit on the badge expansion board given out to every attendee at Supercon. So tightly that [Jac] had to file down the two main chips in order to fit them side by side. The breadboard-like pattern of connected holes on the expansion board, intended to help ease in beginners for their badge hack soldering, proved to be an inconvenience in tightly packed arrangements such as this.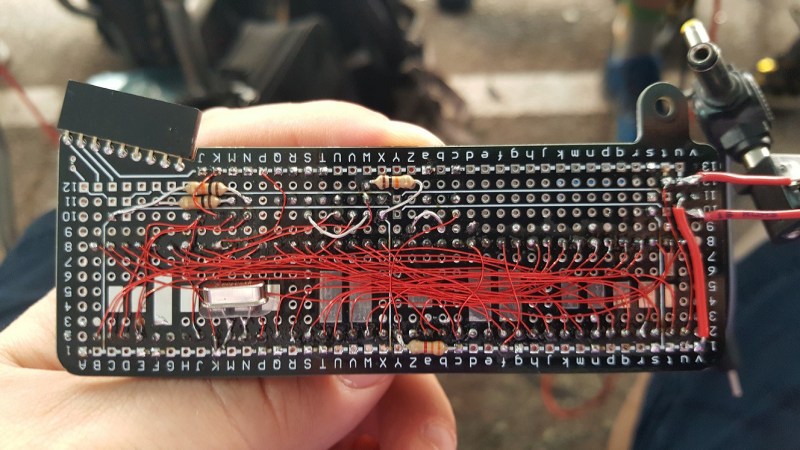 With all the work [Jac] had invested, it was heartbreaking to know he was only five minutes of soldering and 30 minutes of coding away when time ran out. Time pressure was part of the challenge faced by every Supercon badge hacker, and while we're sad [Jac] missed the deadline for stage time we're happy to see him finish and write it all up. We hope every badge hacker would write up their stories of frantic weekend projects. Those who do so on hackaday.io are encouraged to tag their project with "Supercon" and get them added to our list of badge hacks for everyone to admire.