The first thing Jeremy Cook thought when he saw a video of Theo Jansen's Strandbeest walking across the beach was how incredible the machine looked. His second thought was that there was no way he'd ever be able to build something like that himself. It's a feeling that most of us have had at one time or another, especially when starting down a path we've never been on before.
But those doubts didn't keep him from researching how the Strandbeest worked, or stop him from taking the first tentative steps towards building his own version. It certainly didn't happen overnight. It didn't happen over a month or even a year, either.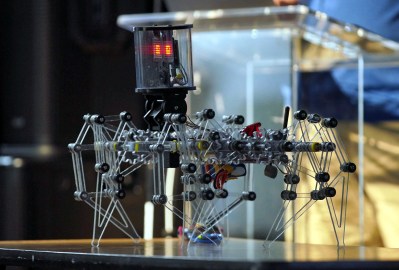 For those keeping score, his talk at the 2019 Hackaday Superconference, "Strandbeests: From Impossible Build to Dominating My Garage" is the culmination of over six years of experimentation and iteration.
His first builds could barely move, and when they did, it wasn't for long. But the latest version, which he demonstrated live in front of a packed audience at the LA College of Music, trotted across the stage with an almost otherworldly smoothness. To say that he's gotten good at building these machines would be something of an understatement.
Jeremy's talk is primarily focused on his Strandbeest creations, but it's also a fascinating look at how a person can gradually move from inspiration to mastery through incremental improvements. He could have stopped after the first, second, or even third failure. But instead he persisted to the point he's an expert at something he once believed was out of his reach.
Continue reading "Jeremy Cook Is Living His Strandbeest Dream" →