Whether it's because they're concerned about worsening pollution or the now endemic variants of COVID-19, a whole lot of people have found themselves in the market for a home air quality monitor thee last couple of years. IKEA noted this trend awhile back, and released the VINDRIKTNING sensor to capitalize on the trend.
The device must have sold pretty well, because last month the Swedish flat-packer unveiled the considerably more capable (and more expensive) VINDSTYRKA. Now thanks to the efforts of [Oleksii Kutuzov] we've got a fantastic teardown of the new gadget, and some more information on the improvements IKEA made over its predecessor.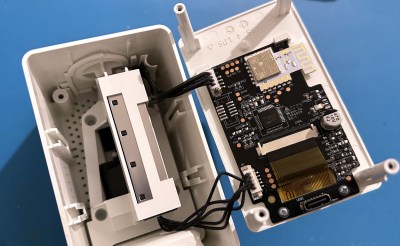 Certainly the most obvious upgrade is the addition of an LCD readout that displays temperature, humidity, and how many particulates the device detected in the air. There's even a "traffic light" colored indicator to show at a glance how bad your air supply is. The other big change is the addition of wireless, though unlike the WiFi hacks we saw for the VINDRIKTNING, this built-in capability uses Zigbee and is designed to plug into IKEA's own home automation ecosystem.
Speaking of those hacks, a GitHub user by the name of [MaartenL] chimes in to say they've managed to hook an ESP32 up to test pads on the VINDSTYRKA motherboard, allowing the parasitic microcontroller to read the device's sensors and report their data on the network over a service like MQTT, without impacting the sensor's normal operations. This is how the first hacks on the older VINDRIKTNING were pulled off, so sounds like a promising start.
But even if you aren't looking to modify the device from its original configuration (how did you find this website?), it seems pretty clear the VINDSTYRKA is a well-built piece of kit that will serve you and your family well. Which is more than what could be said for some of the cheapo environmental sensors flooding the market.
Thanks to [killergeek] for the tip.