Seeed Studio recently launched its third Kickstarter campaign: ReSpeaker, an open hardware voice interface. After their previous Kickstarted IoT hardware, such as the RePhone, mostly focused on connectivity, the electronics manufacturer from Shenzhen now tackles another highly contested area of IoT: Voice recognition.
The ReSpeaker Core is a capable development board based on Mediatek's MT7688 WiFi module and runs OpenWrt. Onboard is a WM8960 stereo audio codec with integrated 1W speaker/headphone driver, a microphone, an ATMega32U4 coprocessor, 12 addressable RGB LEDs and 8 touch sensors. There are also two expansion headers with GPIOs, I2S, I2C, analog audio and USB 2.0 and an onboard microSD card slot.
The latter is especially useful to feed the ReSpeaker's integrated speech recognition engine PocketSphinx with a vocabulary and audio file library, enabling it to respond to keywords and commands even when it's not hooked up to the internet. Once it's online, ReSpeaker also supports most of the available cloud based cognitive speech recognition services, such as Microsoft Cognitive Service, Amazon Alexa Voice Service, Google Speech API, Wit.ai and Houndify. It also comes with an SDK and Python API, supports JavaScript, Lua and C/C++, and it looks like the coprocessor features an Arduino-compatible bootloader.
The expansion header accepts shield-like hardware add-ons. Some of them are also available through the campaign. The most important one is the circular, far-field microphone array. Based on 7 XVSM-2000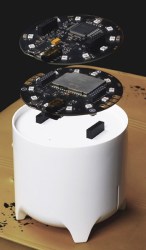 digital microphones, the extension board enhances the device's hearing with sound localization, beam forming, reverb and noise suppression. A Grove extension board connects the ReSpeaker to the Seeed's current lineup on ready-to-use sensors, actuators and other peripherals.
Seeed also cooperates with the Meow King Audio Electronic Company to develop a nice tower-shaped enclosure with built-in speaker, 5W amplifier and battery. As a portable speaker, the Meow King Drive Unit (shown on the right) certainly doesn't knock your socks off, but it practically turns the ReSpeaker into an open source version of the Amazon Echo — including the ability to run offline instead of piping everything you say to Big Brother.
According to Seeed, the freshly baked hardware will ship to backers in November 2016, and they do have a track-record of on-schedule shipped Kickstarter rewards. At the time of writing, some of the Crazy Early Birds are still available for $39. Enjoy the campaign video below and let us know what you think of think hardware in the comments!