I've been sewing off and on since I was a kid, and I really started to get into it about ten years ago. Even though I technically outgrew my little 3/4 size domestic machine pretty quickly, I kept using it because it always did whatever I asked it to. I even made my first backpack on it before deciding it was time for something bigger. Don't ask me how I managed to not kill that machine, because I have no idea.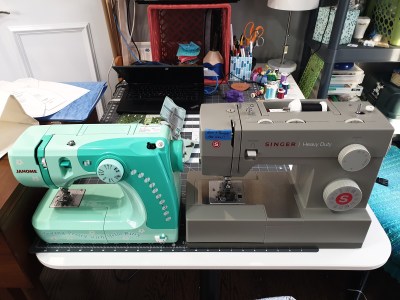 Last year, I got a so-called heavy duty Singer that claims to have 50% more power than a standard domestic machine. This bad boy will make purses and backpacks with ease, I thought. And it does. Well, most of the time.
I found its limits when I tried to make a bag out of thick upholstery material. And honestly, when it comes down to finishing most bags — sewing the thickest and most difficult seams — the machine often lifts up from the table on the end opposite the needle.
What I really need is an industrial sewing machine. Not to replace the Singer at all, but to complement it. I can totally justify this purchase. Let me tell you why.
Continue reading "What You Should Know Before Buying An Industrial Sewing Machine" →