The Briggs & Stratton single cylinder sidevalve engine is one that has been in production in one form or another for over a century, and which remains one of the simplest, most reliable, and easiest to maintain internal combustion engines there is. The little single-cylinder can be found on lawnmowers and other similar machinery everywhere, so it's rather easy to find yourself in possession of more than one. [Lyckebo Mekaniska] evidently had no shortage of them, because he's produced a V8 engine for a small lawn tractor using eight of them. A small air-cooled V8 sidevalve is something of a unique engine to be made in the 2020s, and the series of videos is definitely worth a watch from start to finish. We've been keeping an eye on this build for a while now, and we've embedded it below the break for your entertainment.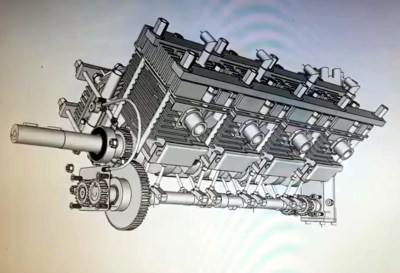 For an engine which uses mass-produced engines for its construction, this one still relies heavily on parts machined from first principles. The cylinder blocks, valves, pistons, and crank rods are Briggs & Stratton, the rest is made in the workshop. It's a design with the valves on the outside — so instead of the single camshaft you might expect from experience with OHV engines nestling in the V above the camshaft it has two camshafts at the bottom of the crankcase.
The crankcase is cast in sections first, followed by the machining of the crankshaft and camshafts, then the preparation of the cylinders.. The engine is assembled with a home made alternator on its flywheel and a conventional distributor from a donor vehicle. The lubrication system is another work of the machinist's art, and the simple straight-through exhaust system is more at home on a drag racer than a lawnmower. Finally we see it running, and it sounds the business. Most recently he's had to deal with a seizure and a replacement cylinder, but now it's back together and he's working on an improved cooling system.
All in all this is one heck of a build, and we wish we had some of those skills. We're not sure whether he'll mow the lawn with this thing, but one thing's for sure, lawnmower hacking has quite a past.
Continue reading "When One Cylinder Isn't Enough: The Briggs And Stratton V8" →