Every now and then someone gets seriously inspired, and that urge just doesn't go away until something gets created. For [Paulius Liekis], it led to creating a roughly 1:20 scale version of the T08A2 Hexapod "Spider" Tank from the movie Ghost in the Shell. As the he puts it, "[T]his was something that I wanted to build for a long time and I just had to get it out of my system." It uses two Raspberry Pi computers, 28 servo motors, and required over 250 hours of 3D printing for all the meticulously modeled pieces – and even more than that for polishing, filing, painting, and other finishing work on the pieces after they were printed. The paint job is spectacular, with great-looking wear and tear. It's even better seeing it in motion — see the video embedded below.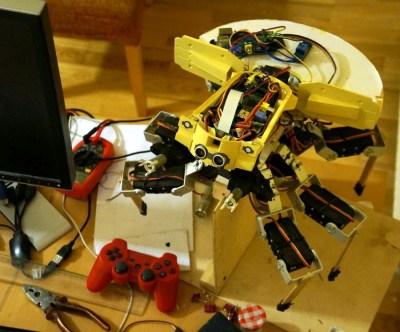 The tank uses custom software to handle gait control, and there is also a Unity 3D pipeline for modeling and playing back sequences of poses (animations) derived from a 3D model. The tank can be controlled via PS3 joystick, but it also has some degree of autonomy in that it can detect and track faces.
The information on the site doesn't go too deeply into the nitty-gritty technical details, but there are plenty of excellent photos of the construction process.
This isn't the first time someone has been inspired by Ghost in the Shell; we've also seen a working Tachikoma made with LEGO that drives and walks just like in the show.