I immediately felt uncomfortable when I realized this thing is called the "Breo iPalm520 Acupressure Hand Massager". You're supposed to stick your hand into it, and through unknown machinations it performs some kind of pressure massage complete with heating action. It's like one of those pain boxes from Dune. It's all the more disturbing when you realize the red button on the thing is an emergency release. That's right, once your hand is in this contraption you can't take it out until the thing has had its way with you or you tap out.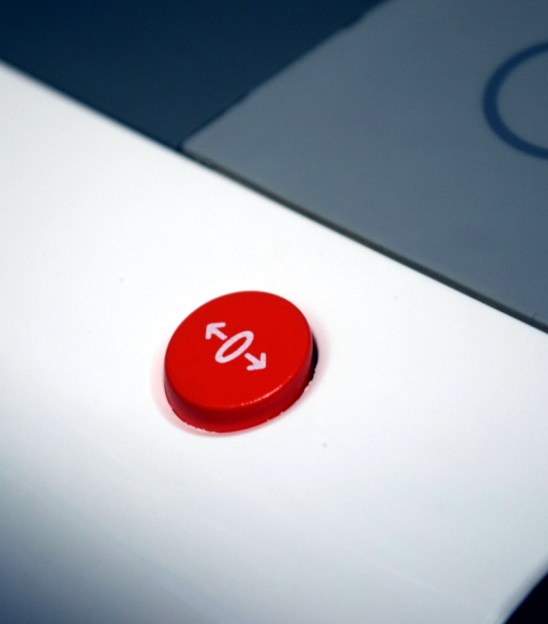 At least once a week I try to get to the local thrift store to look for interesting things. I'd like to be more specific than "interesting things", but truth be told, I never really know what I'm looking for until I see it. Sure there's the normal consumer electronics kind of stuff, but I've also found some very nice laboratory equipment, computer parts, software, technical books, etc. You just have to go regularly and keep an eye out for the occasional needle amongst the hay.
I want you to know, Dear Readers, that I did briefly summon the courage to put my hand into this thing and turn it on. Now I am not what one might call an overly brave man, and perhaps that might explain my personal experience. But when it started to hum and heat up, constricting around my hand to the point I couldn't move my fingers, I screamed like a child and mashed the emergency button as if I was a pilot trying to eject from a mortally wounded aircraft. As far as Frank Herbert is concerned, I'm no human at all.
In an effort to better understand this torture device, lets open it up and see what lurks beneath that futuristic exterior.
Disassembly
David Lynch never let us look inside the box, but this is real life and I can do what I want. It's a fair bet that, the sleeker something looks, the harder it will be to take apart without destroying it. The iPalm520 fits that description perfectly. After you locate the screws, which were naturally recessed so far into the device that I had to go dig out the long-reach drivers I never use, you still have to split the case open. The clips used to hold it together are so strong I was sure the thing would crack before I could get it apart. In fact, I did break several of the clips, despite my best efforts.
With the case opened, we can immediately see the device is pneumatic in nature. An air pump can be observed, as well as some tubing and valves. But before we get into that, let's look at that control board on the left.
Electronics
The brains of the iPalm520 are pretty straightforward. There's only one chip that runs the whole show, directly connected to both the LCD display and the bank of transistors that do the heavy lifting on the motor and valve outputs. The chip itself was expertly wiped of any identifying information; while I can see there used to be something written on it, even under the microscope there's nothing I can make out.
Not much to be said about the electronics, and little that could practically be salvaged. The LCD image is very nice, but much like the main chip, there's unfortunately no identifying marks to determine who makes it or to look up any documentation.
Pneumatic Section
This is the real heart of the device, and surely the most interesting part. We can see the air pump which provides pressure to the system, as well as two electromechanical values which are used to selectively inflate different sections of the cuff. There's also a manual pressure relief valve, which is what gets actuated when you chicken out and press the red button on the top side of the device.
An interesting note is the electrolytic capacitor that was added hastily to the motor. We can only speculate, but it might be that this capacitor was added after it was discovered that the brushed motor was generating too much RF interference.
Pump
The air pump has a model number of JQB370, and looking it up online, this seems to be a common overseas part. Running at 6 VDC and capable of 400 mmHg (around 8 Psi), it seems this little pump is commonly used in devices such as blood pressure monitors.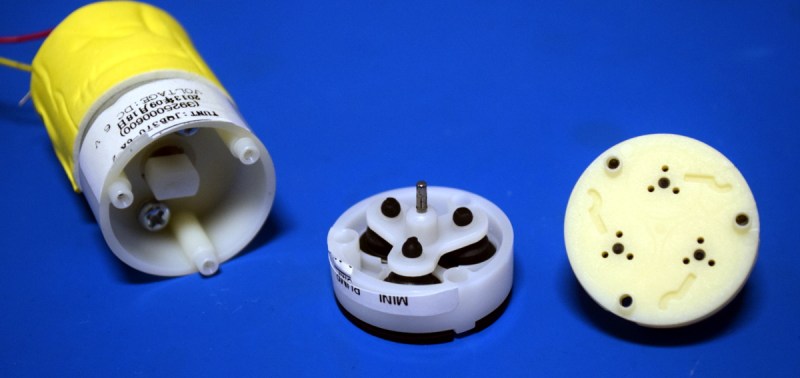 The internal operation is quite fascinating. An offset coupler moves the shaft in an eccentric circle, which flexes three soft rubber bellows. In effect it's a three cylinder piston pump, but without the complexity of physical pistons, a camshaft, etc. Perfect for lightweight mobile devices.
Valves
The two valves used in the device are especially interesting. They are essentially solenoids, with the core being used to block the flow of air through the device. The linear layout, with the air traveling through the coil section, makes for a very compact unit.

The valves strike me as exceptionally well made, and I wouldn't be surprised if the pair of them were the most expensive element of the entire device. The numbers printed on the valve body don't seem to correspond to anything I could find online, though a search for "mini solenoid valve" on the usual overseas websites shows very similar products.
Cuff
Finally, that brings us to the cuff itself. The outer case is exceptionally strong, no doubt to contain the pressure during operation, and according to the markings is made of ABS with 10% glass fiber reinforcement. Four air inlets correspond to four separate air bladders inside the cuff. When combined with the panels of raised rubber shapes these bladders allow the iPalm520 to selectively push different patterns against the user's hands. While rudimentary in this particular device, pneumatic actuators such as these have applications in soft robotics.
In addition, two connectors lead down into a pocket in the cuff fabric. Here we can find the heating element and temperature sensor. This setup is actually very similar to what was used in the Christmas Laser Projector to maintain laser diode temperature.
Salvaged Parts
While the control board is something of a lost cause, the pneumatic components of this device are absolutely worth harvesting for possible future projects. The air pump and valves are ripe for reuse, and would make an excellent "starter kit" for working with air powered contraptions.
That said, given that the Breo iPalm520 retails for $130 USD, it certainly isn't worth buying one just for the parts. In the end, this was a perfect thrift store find; it cost me something like $5, and for that price I'm quite pleased. To date my thrift store strategy has yet to fail me: if it's got buttons and looks cool, it's probably worth taking apart.
I love writing these teardown articles but I'm often at the mercy of what wacky equipment I happen across. If you have suggestions, or even something you'd like to send in for teardown, let us know on the tips line!