Beaded curtains are a pretty banal piece of home decor, unlikely to excite most interior design enthusiasts. Throw on some addressable LEDs, though, and you've got something eye-catching at the very least, as [Becky] demonstrates.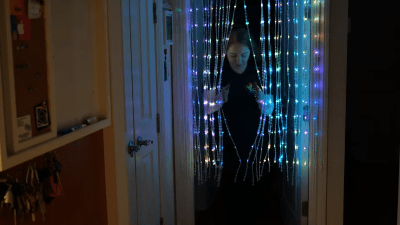 The project started with an existing beaded curtain as a base. A series of addressable LED strands were then carefully sewn to the beads using knots tied in plain sewing thread. The strands were configured as a single strand as far as the data lines were concerned, to make animation easy. Power was supplied to both ends of the strand to ensure nice and even brightness across the strands.
The brains of the system is a PixelBlaze controller, which makes it easy to wirelessly control the behavior of the strings. It's the perfect tool for quickly whipping up fancy animations and pretty effects without hand-assembling a bunch of code yourself.
There was only a few problems with the project. [Becky] found a pretty passable LED beaded curtain from China midway through the project, which reduced her enthusiasm to finish the build. There were also issues walking through the curtain due to the wiring scheme she chose, where the bottom of one strand was connected to its neighbor.
Regardless, it's a fun blinky build that brings some color to an otherwise drab doorway. It's hard to complain about that! Video after the break.
Continue reading "Why Are We Only Just Now Hearing About LED Beaded Curtains" →