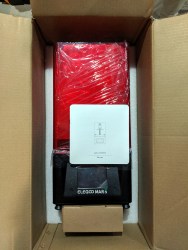 Resin-based 3D printers using digital light processing (DLP) and especially stereolithography (SLA) are getting more common and much more affordable. Prosumer-level options like Formlabs and the Prusa SL1 exist, but more economical printers like the Elegoo Mars, Anycubic Photon, and more can be had for a few hundred bucks. Many printers and resin types can even be ordered directly from Amazon, right at this moment.
Resin prints can look fantastic, so when does it make sense to move to one of these cheap resin printers? To know that, consider the following things:
The printing process and output of resin printers is not the same as for filament-based printers. Design considerations, pre-processing, and post-processing are very different.
Resin printing has a different workflow, with consumables and hidden costs beyond the price of resin refills.
Things may not be quite where fused deposition modeling (FDM) printers were just a few short years ago when we were extremely impressed with the quality of printer one could get for about $200, but it is undoubtedly far more accessible than ever before. Let's look at how to inform a decision about whether to take the plunge. Continue reading "When Does Moving To Resin 3D Printing Make Sense?" →