Thanks to its high orbital inclination, the International Space Station (ISS) eventually passes over most inhabited parts of the Earth. Like other artificial satellites, though, it's typically only visible overhead during passes at sunrise and sunset. If you'd like to have an idea of where it is beyond the times that it's directly visible, take a look at this tabletop ISS tracking system created by [dpelgrift].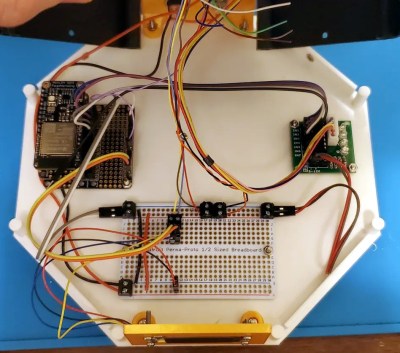 The tracker uses an Adafruit Feather inside its enclosure along with a Featherwing ESP32 WiFi co-processor. Together they direct a 3D printed rocket-shaped pointing device up and down by way of a SG90 micro-servo, while a 28BYJ-48 stepper motor provides rotation.
This setup allows it to take in all of the information required to calculate the Station's current position. The device uses the current latitude and longitude, as well as its compass heading, and combines that with data pulled off the net to calculate which direction it should be pointing.
While it might seem like a novelty or programming challenge, this project could be useful for plenty of people who just want to keep track so they know when to run outside and see the Station pass by, or even by those who use the radio repeater aboard the ISS. The repeater on the ISS and plenty of other satellites are available to amateur radio operators for long-distance VHF and UHF communication like we've seen in projects like these.