As the year of 2005 was drawing to a close, a website known as Myspace was basking in popularity. With millions of users, the site was the most popular social networking site in the world. It was unique in that it let users use HTML code to customize their Myspace page. Most of us, c'mon…admit it….had a Myspace page. The coding part was fun! But not everything was changeable with code. You could only upload up to 12 images and the Relationship Status drop-down menu only had a few options to choose from. These limitations did not sit well with [Samy Kamkar], a 19 year old hacker out of Los Angeles.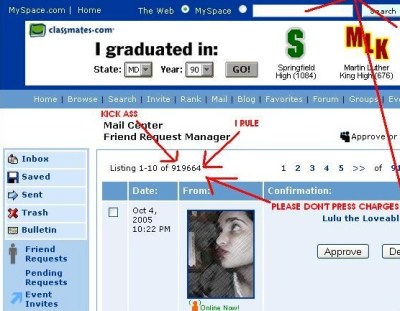 It didn't take [Samy] long to figure out how to trick the site to let him upload more images and change his relationship status to a customized "in a hot relationship". After hoodwinking the Myspace site with some simple hacks, he realized he could do just about anything he wanted to with it. And this is where things get interesting. It took just over a week to develop a script that would force people who visited his page to add him as a friend. But that wasn't enough. He then programmed the script to copy itself onto the visitor's page. [Samy] had developed a self-propagating worm.
The script went live as [Samy] went to bed. He woke up the next morning with 200 friends requests. An hour later the number had doubled. [Samy] got worried and sent an anonymous email to the webmaster warning of the worm. It was ignored. By 1:30PM that day, he had over 6,000 friends request. And like any good hacker worth his weight in floppy drives, his sense of humor had him program the script to also add his name to each visitor's Heroes List. This angered many people, who deleted him from their page, only to get reinfected moments later when they visited another (infected) page.
[Samy's] script was raging out of control.  As the evening closed in, his friends count had reached 919,664. It would top the 1 million mark just before Myspace took their servers offline to figure out what was going on. Two hours later, the site was back up. [Samy's] profile page had been deleted.
[Samy] had used a technique known as cross-site scripting (XSS) to pull off his hack. We'll touch on XSS in a later article. For now, we're going to stick to the basics – proper passwords and SQL Injection.
Continue reading "The Dark Arts: SQL Injection And Secure Passwords" →