The LaserWeb project recently released version 3, with many new features and improvements ready to give your laser cutter or engraver a serious boost in capabilities! On top of that, new 3-axis CNC support means that the door is open to having LaserWeb do for other CNC tools what it has already done for laser cutting and engraving.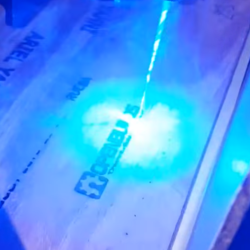 LaserWeb3 supports different controllers and the machines they might be connected to – whether they are home-made systems, CNC frames equipped with laser diode emitters (such as retrofitted 3D printers), or one of those affordable blue-box 40W Chinese lasers with the proprietary controller replaced by something like a SmoothieBoard.
We've covered the LaserWeb project in the past but since then a whole lot of new development has been contributed, resulting in better performance with new features (like CNC mode) and a new UI. The newest version includes not only an improved ability to import multiple files and formats into single multi-layered jobs, but also Smoothieware Ethernet support and a job cost estimator. Performance in LaserWeb3 is currently best with Smoothieware, but you can still save and export GCODE to use it with Grbl, Marlin, EMC2, or Mach3.
The project is open to contributions from CNC / Javascript / UX developers to bring it to the next level. If you're interested in helping bring the project even further, and helping it do for 3-axis CNC what it did for Laser Cutting, project coordinator [Peter van der Walt] would like you to head to the github repository!
We recently shared a lot of great information on safe homebrew laser cutter design. Are you making your own laser cutting machine, or retrofitting an existing one? Let us know about it in the comments!