It perhaps goes without saying that one nuclear bomb can really ruin your day. The same is true for non-nuclear dirty bombs, which just use conventional explosives to disperse radioactive material over a wide area. Either way, the debris scattered by any type of radiation weapon has the potential to result in thousands or perhaps millions of injuries, for which modern medicine offers little in the way of relief.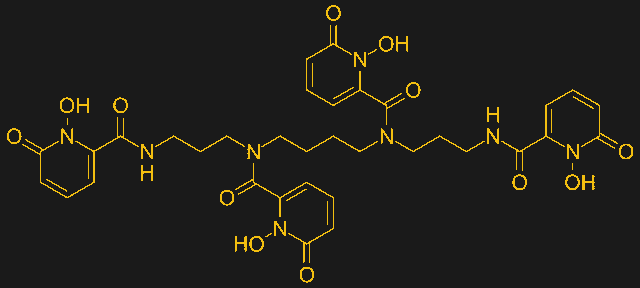 But maybe not for long. A Phase 1 clinical trial is currently underway to see if an oral drug is able to scour radioactive elements from the human body. The investigational compound is called HOPO 14-1, a chelating agent that has a high affinity for metals in the actinide series, which includes plutonium, uranium, thorium, and cerium curium. Chelating agents, which are molecules that contain a multitude of electron donor sites, are able to bind to positively charged metal ions and make the soluble in aqueous solutions. Chelators are important in food and pharmaceutical processing — read the ingredients list on just about anything from a can of soda to a bottle of shampoo and you're likely to see EDTA, or ethylenediaminetetraacetic acid, which binds to any metal ions that make it into the product, particularly iron ions that come from the stainless steel plumbing used in processing equipment.
The compound under evaluation, HOPO 14-1, is a powerful chelator of metal ions. Its structure is inspired by natural chelators produced by bacteria and fungi, called siderophores, which help the microorganisms accumulate iron. Its mechanism of action is to sequester the radioactive ions and make them soluble enough to be passed out of the body in the urine, rather than to have the radioactive elements carried around the body and incorporated into the bones and other tissues where they can cause radiation damage for years.
HOPO 14-1 has a number of potential benefits over the current frontline chelator for plutonium and uranium toxicity, DTPA or diethylenetriaminepentaacetic acid. Where DTPA needs to be injected intravenously to be effective, HOPO 14-1 can be made into a pill, making stockpiling and administering the drug easier. If, of course, it passes Phase 1 safety trials and survives later trials to determine efficacy.