Back in the early 1980s, hotshot business types on the go would have used what were referred to at the time as portable computers from companies like Osborne or Kaypro. Due to the technical limitations of the era these so-called "luggables" were only slightly smaller and lighter than contemporary desktop computers, but they had integrated displays and keyboards so they were a bit easier to move around. A few years later the first generation of laptops would hit the market, and the portables predictably fell out of favor. Today they're relatively rare collectors items; a largely forgotten first step in the steady march towards true mobile computing.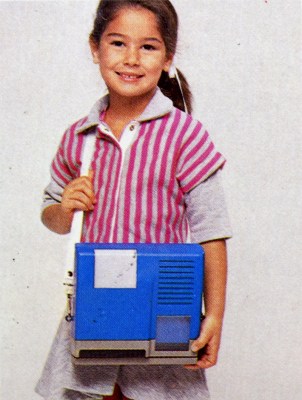 Which makes the 1984 edition of VTech's "Whiz Kid" educational computer an especially unique specimen. The company's later entries into the series of popular electronic toys would adopt (with some variations) the standard laptop form factor, but this version has the distinction of being what might be the most authentic luggable computer ever made for children. When this toy was being designed it would have been a reflection of the cutting edge in computer technology, but today, it's a fascinating reminder that the latest-and-greatest doesn't always stick around for very long.
The classic luggable hallmarks are all here. The flip down keyboard, the small and strangely offset display, there's even lugs on the side to attach an included strap so the youngster can sling it over their shoulder. On the other hand, the fact that it's just a toy allowed for some advantages over the real thing: it can actually run on battery power, and is quite lightweight relative to its size.
When we last took a peek inside one of VTech's offerings, we found a surprisingly powerful Z80 machine that was more than deserving of its PreComputer moniker. But that BASIC-compatible design hailed from the late 80s, and was specifically marketed as a trainer for the next generation of computer owners. Will the 1984 Whiz Kid prove to have a similar relationship to its adult counterparts, or does the resemblance only go skin deep? Let's find out.
Continue reading "Teardown: VTech Whiz Kid Luggable Computer" →