The International Space Station is humanity's most expensive gym membership.
Since the earliest days of human spaceflight, it's been understood that longer trips away from Earth's gravity can have a detrimental effect on an astronaut's body. Floating weightless invariably leads to significantly reduced muscle mass in the same way that a patient's muscles can atrophy if they spend too much time laying in bed. With no gravity to constantly fight against, an astronauts legs, back, and neck muscles will weaken from disuse in as little as a week. While this may not pose an immediate problem during spaceflight, astronauts landing back on Earth in this physically diminished state are at a higher risk of injury.
Luckily this problem can be largely mitigated with rigorous exercise, and any orbiting vessel spacious enough to hold human occupants for weeks or months will by necessity have enough internal volume to outfit it with basic exercise equipment such as a treadmill or a resistance machine. In practice, every space station since the Soviet Union's Salyut 1 in 1971 has featured some way for its occupants to workout while in orbit. It's no replacement for being on Earth, as astronauts still return home weaker than when they left, but it's proven to be the most practical approach to combating the debilitating aspects of long duration spaceflight.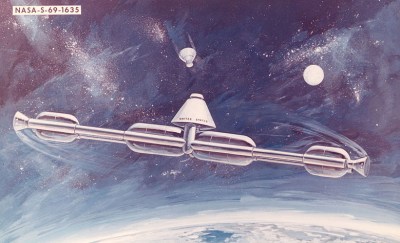 Of course, there's an obvious problem with this: every hour spent exercising in space is an hour that could be better spent doing research or performing maintenance on the spacecraft. Given the incredible cost of not just putting a human into orbit, but keeping them there long-term, time is very literally money. Which brings us back to my original point: astronauts spending two or more hours each day on the International Space Station's various pieces of exercise equipment just to stave off muscle loss make it the world's most expensive gym membership.
The ideal solution, it's been argued, is to design future spacecraft with the ability to impart some degree of artificial gravity on its passengers through centripetal force. The technique is simple enough: just rotate the craft along its axis and the crew will "stick" to the inside of the hull. Unfortunately, simulating Earth-like gravity in this way would require the vessel to either be far larger than anything humanity has ever launched into space, or rotate at a dangerously high speed. That's a lot of risk to take on for what's ultimately just a theory.
But a recent paper from the University of Tsukuba in Japan may represent the first real steps towards the development of practical artificial gravity systems aboard crewed spacecraft. While their study focused on mice rather than humans, the results should go a long way to codifying what until now was largely the stuff of science fiction.
Continue reading "ISS Artificial Gravity Study Shows Promise For Long Duration Spaceflight" →