Pulsed power is a technology that consists in accumulating energy over some period of time, then releasing it very quickly. Since power equals energy (or work) divided by time, the idea is to emit a constant amount of energy in as short a time as possible. It will only last for a fraction of a second though, but that instantaneous power has very interesting applications. With this technology, power levels of more than 300 terawatts have been obtained. Is this technology for unlimited budgets, or is this in reach of the common hacker?
Consider for example discharging a capacitor. A large 450 V, 3300 uF electrolytic capacitor discharges in about 0.1 seconds (varies a lot depending on capacitor design). Since the energy stored in it is given by 1/2 CV², which gives 334 Joules of energy, the power delivered will be 3340 watts. In fact a popular hacker project is to build large capacitor banks. Once you have the bank, and a way to charge it, you can use it to power very interesting devices such as: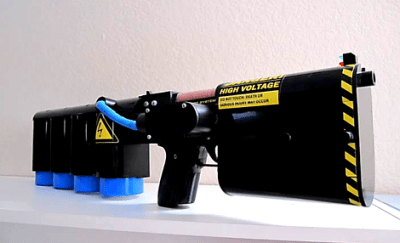 Railguns in particular are subject to serious research. You may have read about the navy railgun, capable of reaching a muzzle speed of more than 4,600 mph (around Mach 6), more than any other explosive-powered gun. Power is provided by a 9-megajoule capacitor bank. The capacitors discharge on two conducting rails, generating an electromagnetic field that fires the projectile along the rails. The rail wear due to the tremendous pressures and currents, in the millions of amperes range, is still a problem to be solved.