The funny thing about keyboard end game is that it usually involves more than one keyboard. Rare is the board that is great for both home and away. Having finished their dactyl build, [RalphCoder13] was looking to build something slimmer and more portable, and the Birdy44 was born.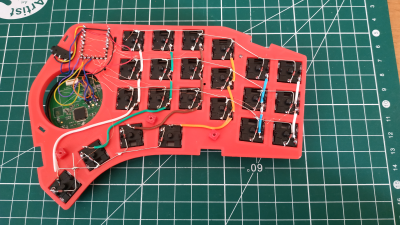 This hand-wired beauty uses a pair of Waveshare RP2040 Zeros and features a pair of 40mm Cirque track pads that were salvaged from a Steam controller.
As you may have guessed, there are 44 Kailh Chocs that sit underneath a combination of MBK and 3D-printed keycaps. Our favorite part might be the tenting legs, which are optional and connect magnetically.
Part of portability is how you decide to carry the thing. You probably don't want it naked and loose in your backpack if you can avoid it, right? To that end, he designed a nice little case for the halves. The original plan was to use magnets to hold them in place inside the topless case, but that didn't work out so well, so he added wide elastic bands to stretch around the case.
Is this still not portable enough for you? Check out this folding split keyboard.
Via KBD