When you can't climb actual rocks all the time, what do you do to train and keep sharp? You go to a rock-climbing gym, naturally. But what do you do when it's 2020 and your rock-climbing gym has shuttered for the foreseeable? You build the best darn rock-climbing wall possible, and you outfit it with an LED for every hold and write an app that lets you plan your route and repeat it later.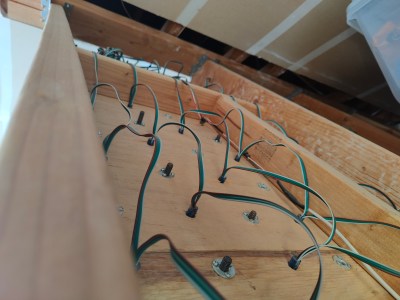 This is essentially a DIY version of something called a Moonboard, which, aside from being expensive, was quickly going out of stock back in 2020. [Pegor] started the Peggyboard by building a climbing woody, which is a legendary home climbing wall built by a legendary climber about 20 years ago.
The Peggyboard is Raspberry Pi-powered and has a rather nice app going for it, which [Pegor] has kindly decided to open source.
On the initial screen, the user can select a route and assign the holds as either starting holds, foot holds, hand holds, or finishing holds, each with a different color LED. Another screen lets the user choose a previously-saved route, then apply it to the Peggyboard's LEDs with the light bulb icon.
Don't know where to get started building your own climbing wall? You can 3D print climbing holds, you know.