[Cody Reeder] had a problem. He wanted to make a ring for his girlfriend [Canyon], but didn't have enough gold. [Cody and Canyon] spent some time panning for the shiny stuff last summer. Their haul was only about 1/3 gram though. Way too small to make any kind of jewelry. What to do? If you're [Cody], you head up to your silver mine, and pick up some ore. [Cody] has several mines on his ranch in Utah. While he didn't go down into the 75 foot deep pit this time, he did pick up some ore his family had brought out a few years back. Getting from ore to silver is a long process though.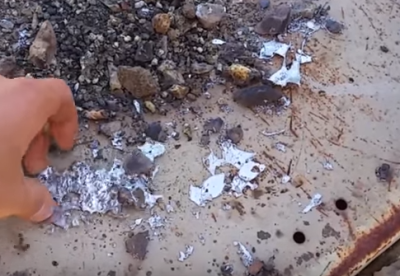 First, [Cody] crushed the rock down to marble size using his homemade rock crusher. Then he roasted the rock in a tire rim furnace. The ore was so rich in lead and silver that the some of the metal just dropped right out, forming splatters on the ground beneath the furnace. [Cody] then ball milled the remaining rock to a fine powder and panned out the rest of the lead. At this point the lead and silver were mixed together. [Cody] employed Parks process to extract the silver. Zinc was added to the molten lead mixture. The silver is attracted to the zinc, which is insoluble in lead. The result is a layer of zinc and silver floating above the molten lead. Extracting pure silver is just a matter of removing the zinc, which [Cody] did with a bit of acid.
Cody decided to make a silver ring for [Canyon] with their gold as the stone. He used the lost wax method to create his ring. This involves making the ring from wax, then casting that wax in a mold. The mold is then heated, which burns out the wax. The result is an empty mold, ready for molten metal.
The cast ring took a lot of cleanup before it was perfect, but the results definitely look like they were worth all the work.