Owning and flying your own small airplane offers a nearly unmatched level of freedom and autonomy. Traveling "as the crow flies" without having to deal with traffic on the ground immediately shrinks your world, and makes possible all sorts of trips and adventures. Unfortunately the crippling downsides of plane ownership (storage and maintenance costs, knowledge that you might die in a fiery crash, etc), keeps most of us planted squarely on terra firma.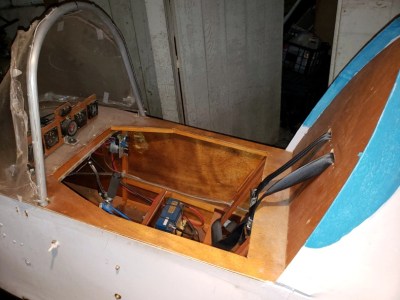 But not [ITman496]. His dream of owning an ultralight has recently come true, and he's decided to share his experience with the world. He's got a long way to go before he slips the surly bonds of Earth, but there's no better place to start than the beginning. In a recent blog post he documents the process of getting his new toy home, and details some of the work he plans on doing to get it airworthy.
The plane in question is a Mini-MAX that [ITman496] has determined is not only older than he is, but has never flown. It was built by a retired aircraft mechanic who unfortunately had problems with his heart towards the end of assembly. He wisely decided that he should find a safer way to spend his free time than performing solo flights in an experimental aircraft, so he put the plane up for sale.
After a considerable adventure transporting the plane back home, [ITman496] found it was stored in such good condition that the engine started right up. But that doesn't mean it's ready for takeoff by any stretch of the imagination. For his own safety, he's planning on tearing down the entire plane to make sure everything is in good shape and assembled correctly; so at least he'll only have himself to blame if anything happens when he's in the air.
One the plane's structure is sound, he'll move on to some much needed engine modifications including a way to adjust the air-fuel mixture from inside the cockpit, improvements to the cooling system, and installation of a exhaust system that's actually intended for the two-stroke engine he has. When that's done, [ITman496] is going to move onto the real fun stuff: creating his own "glass cockpit".
For Hackaday readers who don't spend their time playing make believe in flight simulators, a "glass cockpit" is a general term for using digital displays rather than analog gauges in a vehicle. [ITman496] has already bought two daylight-readable 10.1″ IPS displays which he plans on driving over HDMI with the Raspberry Pi. No word on what his software setup and sensor array will look like, but we're eager to hear more as the project progresses.
If you're not lucky enough to find a mostly-complete kit plane nearby on Craigslist, you could always just make your own airplane out of sheets of foam.