India's Chandrayaan-2 mission to the Moon was, in a word, ambitious. Lifting off from the Satish Dhawan Space Centre on July 22nd, the mission hoped to simultaneously deliver an orbiter, lander, and rover to our nearest celestial neighbor. The launch and flight to the Moon went off without a hitch, and while there were certainly some tense moments, the spacecraft ultimately put itself into a stable lunar orbit and released the free-flying lander so it could set off on its independent mission.
Unfortunately, just seconds before the Vikram lander touched down, an anomaly occurred. At this point the Indian Space Research Organisation (ISRO) still doesn't know exactly what happened, but based on the live telemetry stream from the lander, some have theorized the craft started tumbling or otherwise became unstable between three and four kilometers above the surface.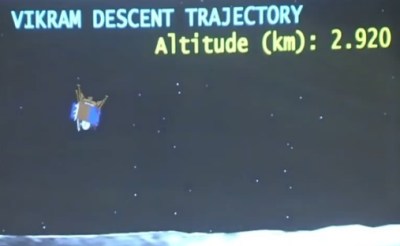 In fact, for a brief moment the telemetry display actually showed the Vikram lander completely inverted, with engines seemingly accelerating the spacecraft towards the surface of the Moon. It's unclear whether this was an accurate depiction of the lander's orientation in the final moments before impact or a glitch in the real-time display, but it's certainly not what you want to see when your craft is just seconds away from touchdown.
But for Chandrayaan-2, the story doesn't end here. The bulk of the mission's scientific goals were always to be accomplished by the orbiter itself. There were of course a number of scientific payloads aboard the Vikram lander, and even the Pragyan rover that it was carrying down to the surface, but they were always secondary objectives at best. The ISRO was well aware of the difficulties involved in making a soft landing on the Moon, and planned their mission objectives accordingly.
Rather than feel sorrow over the presumed destruction of Vikram and Pragyan, let's take a look at the scientific hardware aboard the Chandrayaan-2 orbiter, and the long mission that still lies ahead of it.