Researchers at North Carolina State University have created a soft robot that moves in a distinctly caterpillar-like manner. As detailed in the research paper in Science Advances by [Shuang Wu] and colleagues, the robot they developed consists of a layer of liquid crystalline elastomers (LCE) and polydimethylsiloxane (PDMS) with embedded silver nanowire that acts as a heater.
The LCE is hereby designed as a thermal bimorph actuator, using a distinct thermal expansion coefficient between the LCE and PDMS sides to create a highly controllable deformation and thus motion. Since the nanowire is divided into sections that can be individually heated, the exact deformation can be quite tightly controlled, enabling the crawling motion.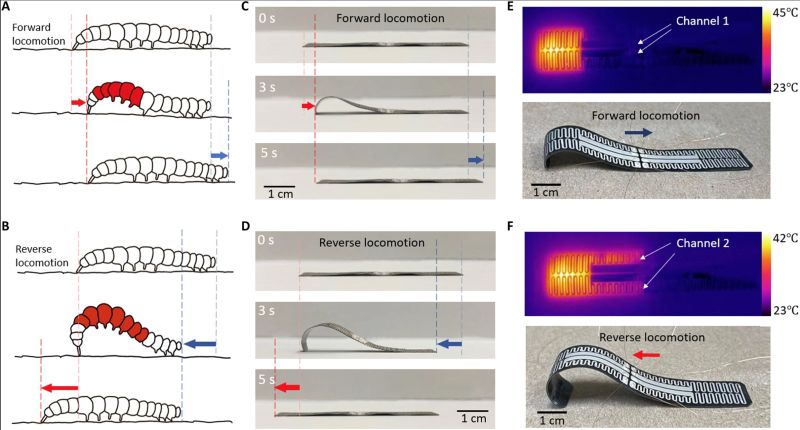 As can be seen in the video below, the motion is fairly rapid and quite efficient, as well as decidedly caterpillar-like. Although the current prototype uses external control wires that supply the current, it might be possible to integrate a power supply and control circuitry in a stand-alone robot. Since the heater works on low voltage (5 V) and relatively little power is required, this would seem to make stand-alone operation eminently possible.
Continue reading "Caterpillar-Like Soft Robot With Distributed Programmable Thermal Actuation" →