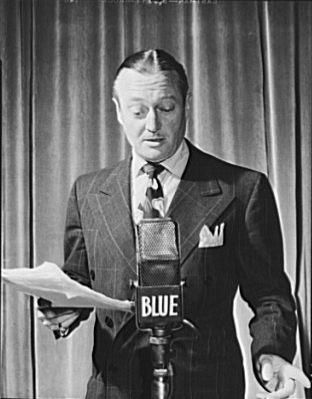 If you've ever seen an old movie or TV show where there was a radio announcer, you've probably seen a ribbon microphone. The RCA 44 (see Edmund Lowe, on right) had exceptional sound quality and are still valued today in certain applications. The name ribbon microphone is because the sound pickup is literally a thin strip of aluminum or other conductive material.
Unlike other common microphones, ribbons pick up high frequencies much better due to the high resonant frequency of the metallic ribbon. This is not only better in general, but it means the ribbon mic has a flatter frequency response even at lower frequencies. Another unique feature is that the microphone is bidirectional, hearing sounds from the front or back equally well. It is possible to build them with other directional patterns, although you rarely see that in practice.
Invention
In the early 1920s, Walter Schottky and Erwin Gerlach developed the ribbon microphone (and, coincidentally, the first ribbon loudspeaker). Harry Olson at RCA developed a ribbon mic that used coils and permanent magnets which led to the RCA Photophone Type PB-31 in 1931. Because of their superior audio response, they were instant hits and Radio City Music Hall started using the PB-31 in 1932. A newer version appeared in 1933, the 44A, which reduced reverberation.