If we cast our minds back to the early years of the transistor, the year that is always quoted is 1947, during which a Bell Labs team developed the first practical germanium point-contact transistor. They would go on to be granted the Nobel Prize for their work in 1956, but the universal adoption of their invention was not an instantaneous process. Instead there would be a gradual change from vacuum to solid state that would span the 1950s and the 1960s, and even in the 1970s you might still have found mainstream devices on sale containing vacuum tubes.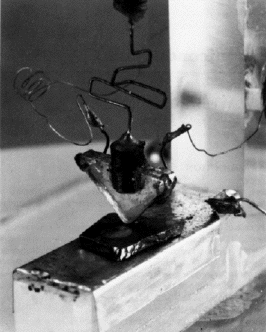 To speed up this process, Bell Labs made every effort to publicize their invention. Thus we come to our subject today, their 1953 publicity film The Transistor, in which the electronics industry of the era is described and how each part of it might revolutionize by the transistor is laid out.
We start with a look at a selection of electronic components, among which are a few transistors. The point contact device is already described as superceded by the junction transistor, but as well as those two we are shown a phototransistor and a junction tetrode, a now-obsolete design that had two base connections.
Unexpectedly we don't dive straight into the world of transistors, but take a look back at the earlier years of the century to the development of vacuum electronics. We're taken through the early development  and operation of vacuum tubes, then their use in long-distance radio communications, through the advent of electronics in mass entertainment, and finally into the world of radar and microwave links. Only then do we return to the transistor, with a posed shot of [John Bardeen], [William Shockley], and [Walter Brattain] hard at work in a lab. The merits of the transistor as opposed to the tube are then set out, though we can't help wondering whether they have confused a milliwatt and a microwatt when they describe the transistor as requiring only a millionth of a watt to operate.
Continue reading "Retrotechtacular: The Transistor (1953 Film)" →