When NASA astronauts aboard the International Space Station have to clamber around on the outside of the orbiting facility for maintenance or repairs, they don a spacesuit known as the Extravehicular Mobility Unit (EMU). Essentially a small self-contained spacecraft in its own right, the bulky garment was introduced in 1981 to allow Space Shuttle crews to exit the Orbiter and work in the craft's cavernous cargo bay. While the suits did get a minor upgrade in the late 90s, they remain largely the product of 1970s technology.
Not only are the existing EMUs outdated, but they were only designed to be use in space — not on the surface. With NASA's eyes on the Moon, and eventually Mars, it was no secret that the agency would need to outfit their astronauts with upgraded and modernized suits before moving beyond the ISS. As such, development of what would eventually be the Exploration Extravehicular Mobility Unit (xEMU) dates back to at least 2005 when it was part of the ultimately canceled Constellation program.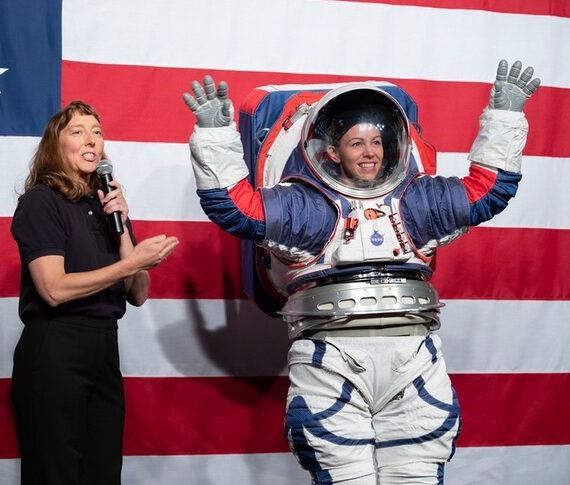 Unfortunately, after more than a decade of development and reportedly $420 million in development costs, the xEMU still isn't ready. With a crewed landing on the Moon still tentatively scheduled for 2025, NASA has decided to let their commercial partners take a swing at the problem, and has recently awarded contracts to two companies for a spacesuit that can both work on the Moon and replace the aging EMU for orbital use on the ISS.
As part of the Exploration Extravehicular Activity Services (xEVAS) contract, both companies will be given the data collected during the development of the xEMU, though they are expected to create new designs rather than a copy of what NASA's already been working on. Inspired by the success of the Commercial Crew program that gave birth to SpaceX's Crew Dragon, the contract also stipulates that the companies will retain complete ownership and control over the spacesuits developed during the program. In fact, NASA is even encouraging the companies to seek out additional commercial customers for the finished suits in hopes a competitive market will help drive down costs.
There's no denying that NASA's partnerships with commercial providers has paid off for cargo and crew, so it stands to reason that they'd go back to the well for their next-generation spacesuit needs. There's also plenty of incentive for the companies to deliver a viable product, as the contact has a potential maximum value of $3.5 billion. But with 2025 quickly approaching, and the contact requiring a orbital shakedown test before the suits are sent to the Moon, the big question is whether or not there's still enough time for either company to make it across the finish line.
Continue reading "NASA Turns To Commercial Partners For Spacesuits" →