Open Bionics is a company creating prosthetics inspired by heroines, heroes and the fictional worlds they live in. The designs emblazoned on their first set of bionic hands include ones drawn from Queen Elsa from Disney's Frozen, and Marvel's Iron Man. The best thing about what they are doing is they offer you, dear reader, a chance to lend your own super powers of design and engineering. Open Bionics offers up 3D print files for several hand designs, hardware schematics and design files for their controller boards, firmware, and software to control the robotic hands with. Other than their website, you can also find all of the files and more on their GitHub account. If you'd like to devote a good amount of time and become a developer, they have a form to contact them through. To help with sourcing parts for your own build, they sell cables for tendons, muscle sensors, and fingertip grips in their online store.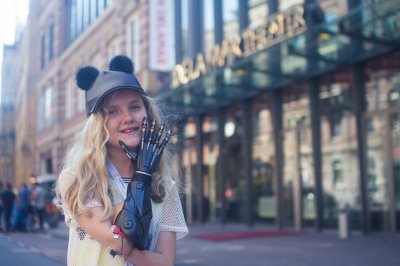 We first came to learn about this company through a tipster [Dj Biohazard] who pointed to a post about their partnership with an 11-year-old Tilly, who is pictured on the left. Her bionic hand is an Open Bionics prototype whose design is based on the video game, Deus Ex. The best way products like these are improved are through the open source community and people like her.
Specific improvements Open Bionics state on their website are:
The customised bionic arms are manufactured in under 24 hours and the revolutionary socket adjusts as the child grows.

The bionic arms are light and small enough for those as young as eight.

The bionic arms use myoelectric skin sensors to detect the user's muscle movements, which can be used to control the hand and open and close the fingers.
Read more about Tilly's story and her partnership with Open Bionic's on Womanthology. Tilly seems to have a dream of her own to "make prosthetics a high fashion piece – something that amputees can be proud to wear." 
We at Hackaday have written about several open source prosthetic developments such as a five-day event S.T.E.A.M. Fabrikarium program taking place at Maker's Asylum in Mumbai and the work of [Nicholas Huchet]. What superhuman inspired designs would you create?