While the weather alternated between mist and monsoon for most of it, the thirteenth annual Vintage Computer Festival East was still a huge success. People came from all over the country, and indeed the world, to show off computers and equipment that was easily older than many of those in attendance. From 1980's robots to recreations of the very first machines to ever carry the name "computer" as we understand it today, there were a dizzying array of fascinating exhibits to see for those who made the pilgrimage to the InfoAge Science Center in Wall, New Jersey. The people who own and maintain these technological touchstones were in many cases were just as interesting as the hardware they brought to show off; walking encyclopedias of knowledge about the particular piece of vintage gear that they've so lovingly shepherded into the modern day.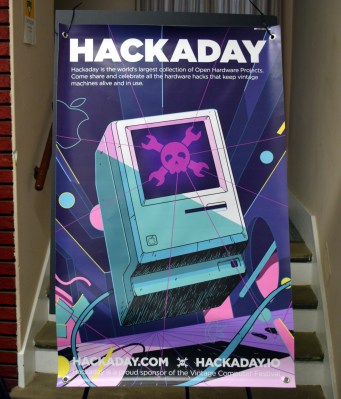 Through it all, save for a brief intermission to get chili dogs from the nearest WindMill, Hackaday was there. We got up close and personal with [Brian Stuart]'s impressive ENIAC emulator, listened to some ethereal chiptunes courtesy of [Bill Degnan]'s MITS Altair 8800, saw relics from the days when the "app store" needed stamps from [Allan Bushman]'s impressive colleciton, and got inspired by the [Alexander Pierson]'s somewhat more modern take on the classic kit computers of the 1970's.
But those were't the only things on display at the Vintage Computer Festival, not by a long shot. There were over 100 individual exhibits this year at VCF, and that doesn't even include the workshops, classes, tours, or the daily keynote presentations. To say you get your money's worth on the ticket is something of an understatement.
It's fair to say that there's no real substitute for seeing a show like this in person. But in addition to the aforementioned articles, a rundown (in no particular order) of some of the interesting exhibits and attractions from this year's VCF is a decent consolation prize. If this piques your interest, we'd invite you to keep an eye out for the next Vintage Computer Festival. We'll be there.
Continue reading "VCF East XIII: Another Day In Retro Paradise" →