We didn't include a "Most Ornate" category in this year's Coin Cell Challenge, but if we had, the environmentally reactive jewelry created by [Maxim Krentovskiy] would certainly be the one to beat. Combining traditional jewelry materials with an Arduino-compatible microcontroller, RGB LEDs, and environmental sensors; the pieces are able to glow and change color based on environmental factors. Sort of like a "mood ring" for the microcontroller generation.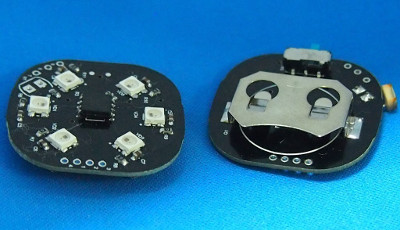 [Maxim] originally looked for a turn-key solution for his reactive jewelry project, but found that everything out there wasn't quite what he was looking for. It was all either too big or too complicated. His list of requirements was relatively short and existing MCU boards were simply designed for more than what he needed.
On his 30 x 30 mm PCB [Maxim] has included the bare essentials to get an environmentally aware wearable up and running. Alongside the ATtiny85 MCU is a handful of RGB LEDs (with expansion capability to add more), as well as analog light and temperature sensors. With data from the sensors, the ATtiny85 can come up with different colors and blink frequencies for the LEDs, ranging from a randomized light show to a useful interpretation of the local environment.
It's not much of a stretch to imagine practical applications for this technology. Consider a bracelet that starts flashing red when the wearer's body temperature gets too high. Making assistive technology visually appealing is always a challenge, and there's undoubtedly a market for pieces of jewelry that can communicate a person's physical condition even when they themselves may be unable to.
Form or function, life saving or complete novelty, there's still time to enter your own project in the 2017 Coin Cell Challenge.