We will assume you've seen The Matrix — it was from 1999, after all. The surprise, at the end, was that humans were being used as human batteries to power a civilization of intelligent machines. But aside from just putting out some heat, the idea does have some precedent. After all, humans powered machines like mills, sewing machines, and pumps for centuries before there were good alternatives.
History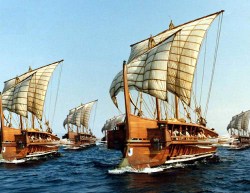 Early machines used hand cranks, treadwheels, treadles, and even pedal power to harness energy from humans. Consider, for example, an ancient galley ship with many oarsmen providing an engine. This wasn't a great use of human power. An oarsman on a galley used his arms and back but didn't much use his legs. The legs, though, have larger muscles and are often stronger. A pedal boat or racing shell would have been much more efficient, but without mass production of strong metal parts, it would have been difficult to build and maintain such machines in ancient times.
There was a time when pedals or treadles operated lots of machines from sewing machines to lathes. There were even old radios able to transmit and receive with no external power thanks to pedals as late as the 1940s.