The brand new Raspberry Pi Compute Module 4 (CM4) was just released! Surprised? Nope, and we're not either — the Raspberry Pi Foundation had hinted that it was going to release a compute module for the 4-series for a long while.
The form factor got a total overhaul, but there's bigger changes in this little beastie than are visible at first glance, and we're going to walk you through most of them. The foremost bonuses are the easy implementation of PCIe and NVMe, making it possible to get data in and out of SSDs ridiculously fast. Combined with optional WiFi/Bluetooth and easily designed Gigabit Ethernet, the CM4 is a connectivity monster.
One of the classic want-to-build-it-with-a-Pi projects is the ultra-fast home NAS. The CM4 makes this finally possible.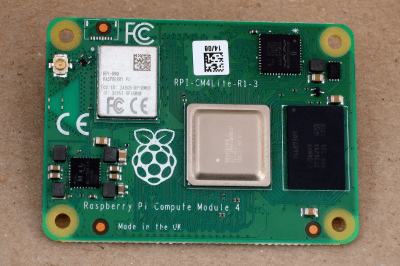 If you don't know the compute modules, they are stripped-down versions of what you probably think of as a Raspberry Pi, which is officially known as the "Model B" form-factor. Aimed at commercial applications, the compute modules lack many of the creature comforts of their bigger siblings, but they trade those for flexibility in design and allow for some extra functionality.
The compute modules aren't exactly beginner friendly, but we're positively impressed by how far Team Raspberry has been able to make this module accessible to the intermediate hacker. Most of this is down to the open design of the IO Breakout board that also got released today. With completely open KiCAD design files, if you can edit and order a PCB, and then reflow-solder what arrives in the mail, you can design for the CM4. The benefit is a lighter, cheaper, and yet significantly more customizable platform that packs the power of the Raspberry Pi 4 into a low-profile 40 mm x 55 mm package.
So let's see what's new, and then look a little bit into what is necessary to incorporate a compute module into your own design.
Continue reading "New Raspberry Pi 4 Compute Module: So Long SO-DIMM, Hello PCIe!" →