Octoprint is a household name for anyone into 3D printing and anyone regularly reading Hackaday. Described by creator Gina Häußge as "the snappy web interface for your 3D printer", Octoprint allows you to control effectively any desktop 3D printer over the local network or Internet. It even has webcam support so you can watch your printer while it works, meaning you can finally put that video baby monitor back into the crib with Junior.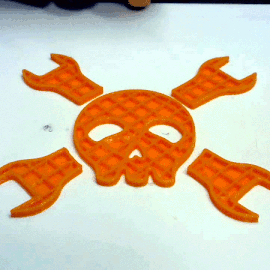 While the core functionality of Octoprint is fantastic alone, its true power is unlocked through the plugin system and the community that's sprung up around it. With plugins, Octoprint can do everything from control RGB light strips in your printer's enclosure to sending status messages via Discord. One particularly popular plugin that has been making the rounds lately is Octolapse by [FormerLurker]. This plugin provides a comprehensive intelligent system for creating time-lapse videos of prints.
What does that mean? Well, instead of simply taking a picture every few seconds like you'd do traditionally, Octolapse actually keeps track of the printer's motions while its running. It can then take a picture at the opportune moment to create a number of user-selected effects. More importantly, it can even take control of the printer directly; moving the hotend away from the print before taking a picture. The effect is that the print simply "grows" out of the bed.
I thought it would be interesting to take a closer look at Octolapse and see just what it takes to create one of those awesome time-lapse videos. It turned out to be somewhat trickier than I anticipated, but the end results are so fantastic I'd say it's a technique worth mastering.
Continue reading "Coolest Way To Watch 3D Printing: Lights, Camera, Octolapse!" →